With its shimmering turquoise waters, powdery-soft white sand, and an endless skyline where the ocean meets the heavens, the Riviera Maya stands as one of the world's premier coastal destinations. Nestled along the Caribbean coastline of Mexico's Yucatán Peninsula, this world-renowned paradise boasts an array of beaches, each with its unique charm and appeal. Whether you're a sun-worshipper, an adventure seeker, or a tranquility enthusiast, the beaches of the Riviera Maya beckon with irresistible allure. Here, we delve into an updated 2023 guide to the best and most beautiful beaches in Riviera Maya that this sun-kissed paradise has to offer.
By taking a private yacht riviera maya, you can make the best out of your trip! So, without any further delays, let's dive in
1) Playa Paraiso (Paradise Beach):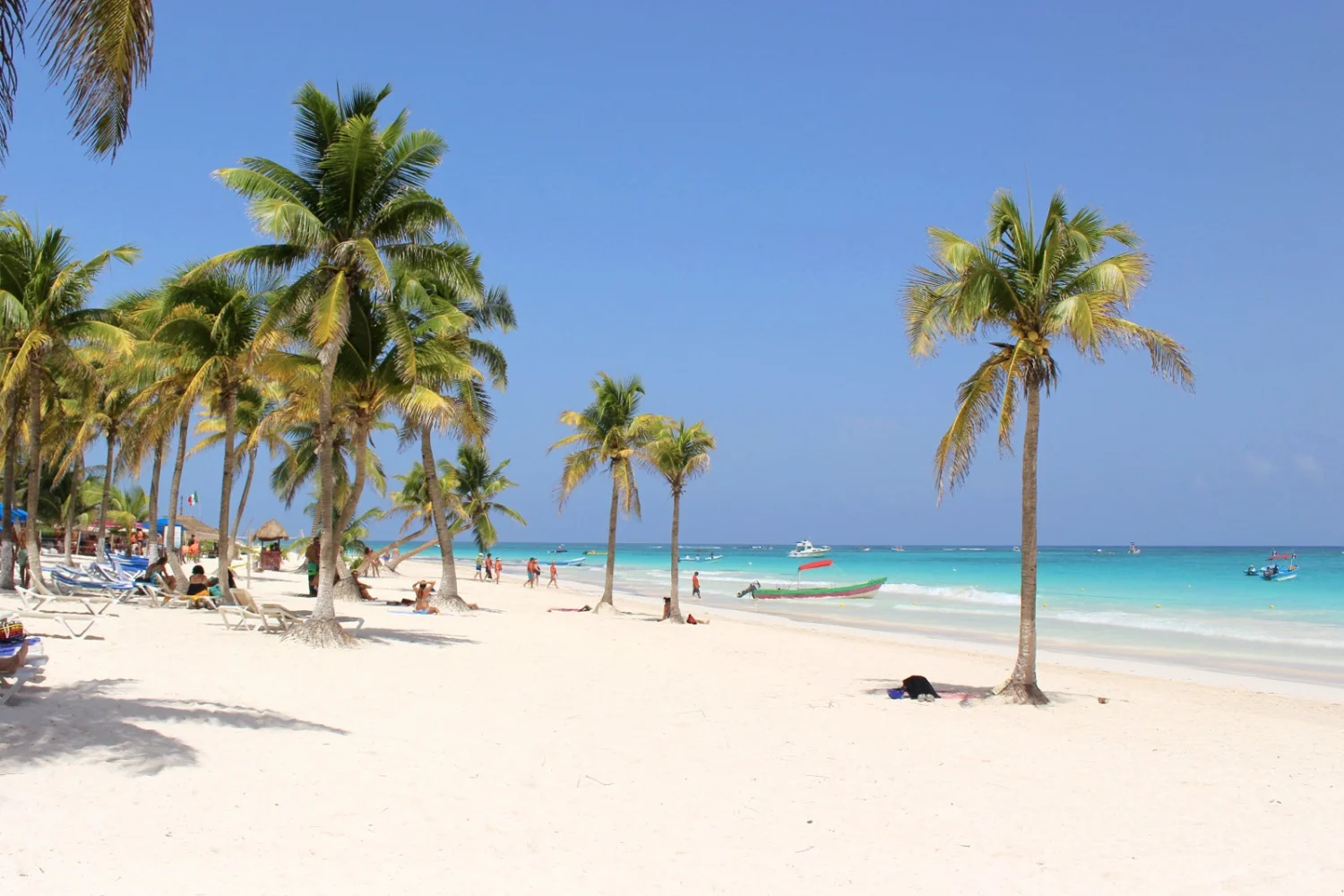 Unspoiled Beauty: Often less crowded than other beaches, Playa Paraiso is one of the best Riviera Maya beaches as it offers a serene landscape of pure white sand juxtaposed against the clear blue Caribbean waters. Nestled along the coastline of the Riviera Maya, Playa Paraiso is true to its name, offering visitors a "paradise" with its unspoiled beauty. Unlike some of the more commercialized beaches in the area, Playa Paraiso has managed to preserve its natural charm. The sand here is powdery and white, contrasting with the varying shades of turquoise in the shimmering waters.
Proximity to Tulum Ruins: One of Playa Paraiso's most distinctive features is its close proximity to the Tulum Ruins, one of Mexico's most well-preserved coastal Maya sites. Just a short drive or a leisurely walk along the beach will lead visitors to this ancient archaeological wonder. Exploring these ruins offers a unique opportunity to immerse oneself in the rich history and culture of the ancient Maya civilization.
Beach Clubs & Amenities: Despite its serene environment, Playa Paraiso doesn't lack modern comforts, thanks to the presence of various beach clubs along its shores. These establishments offer amenities such as comfortable sun loungers, umbrellas, and showers, allowing visitors to relax with convenience. The beach clubs often feature restaurants and bars serving local and international cuisine, refreshing cocktails, and other beverages, perfect for visitors who want to indulge in local flavors while soaking in the sun.
2) Akumal Beach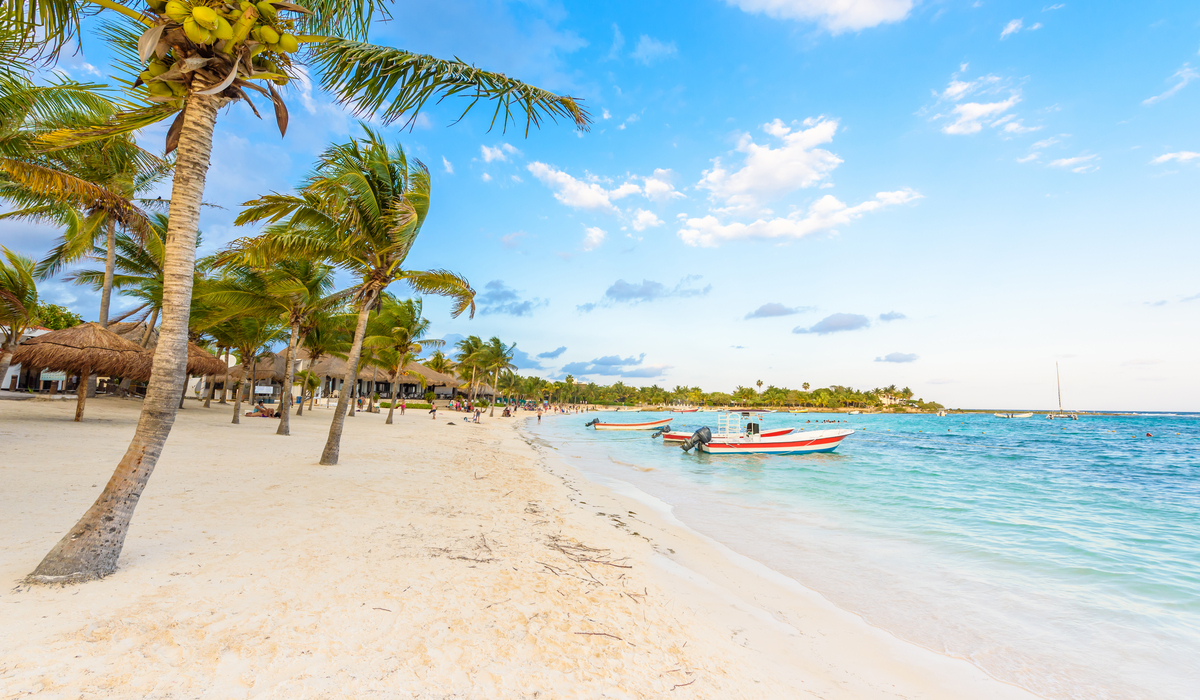 Sea Turtle Spotting: Akumal Beach is renowned for being a prime location for sea turtle spotting. "Akumal" translates to "Place of the Turtles" in the Mayan language, a name that reflects the beach's status as a favorite nesting spot for sea turtles. The crystal-clear waters and abundant seagrass provide a perfect habitat for these creatures. With a mask and snorkel, visitors can swim alongside the turtles, observing them in their natural habitat. The chance to see these majestic creatures up close is truly a magical experience and a must-do for wildlife enthusiasts making it one of the best beaches in Riviera Maya, Mexico.
Family-Friendly: Akumal's sheltered bay area has calm, gentle waters, making it an ideal beach for families with children. The soft sandy beach is perfect for building sandcastles or playing beach games. There are also plenty of amenities, including beachside restaurants, shops, and bathroom facilities, ensuring a stress-free day out for the whole family. Additionally, lifeguards are typically on duty for an extra layer of safety while swimming or snorkeling.
Conservation Efforts: Akumal is more than just a beautiful beach; it's also a center for marine conservation. Visitors can learn about the local ecosystem, the sea turtles, and conservation efforts through educational tours and information sessions provided by these organizations. The emphasis on conservation adds a meaningful dimension to the visitor experience at Akumal Beach.
3) Xpu-Ha Beach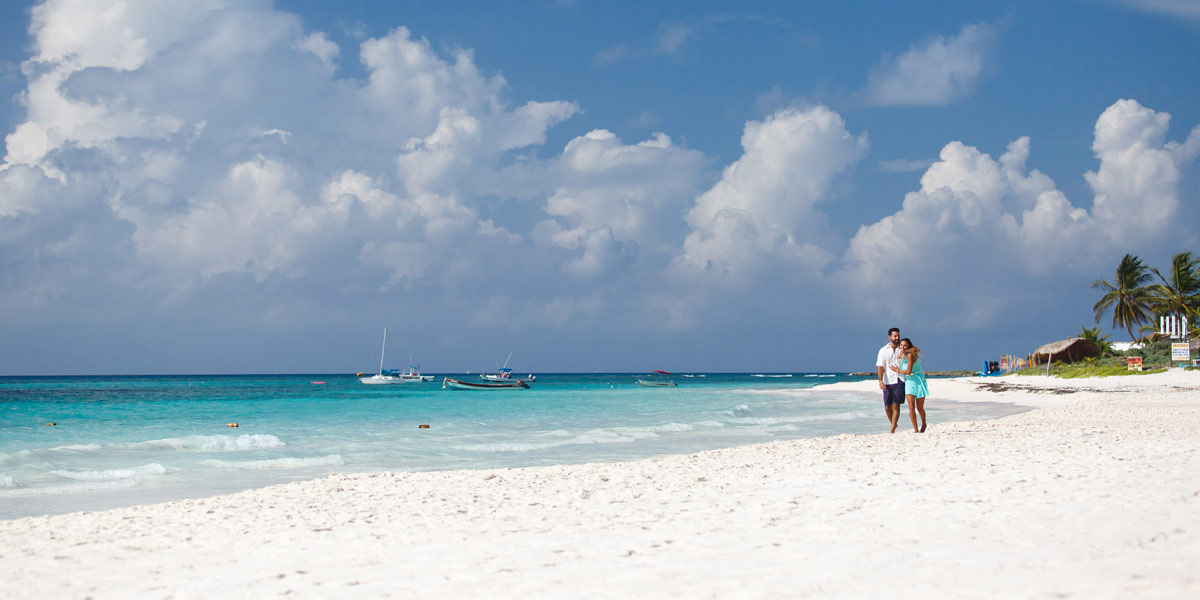 Secluded Paradise: In a region known for its bustling tourist hotspots, Xpu-Ha Beach stands out as a breath of fresh air for those seeking a more secluded environment. This beach is less commercialized than other beaches of Riviera Maya allowing its natural beauty to take center stage. The tranquil atmosphere makes it an ideal spot for visitors wanting to unwind, meditate, or simply soak up the sun in a serene setting.
Water Sports and Activities: Despite its tranquility, Xpu-Ha is also a hub for various water sports and activities. The clear, shallow waters are perfect for kayaking and stand-up paddleboarding, allowing participants to glide over the sea while enjoying the surrounding scenery. The beach also has areas rich in marine life, making it a delightful spot for snorkeling.
Camping Options: One of the unique features of Xpu-Ha Beach is the opportunity for beachside camping. For travelers seeking an immersive nature experience, spending the night in a tent under the stars with the sounds of the waves as a lullaby is unparalleled. The beach has designated camping areas with basic amenities, providing a rustic yet comfortable experience. This option is perfect for adventure-seekers wanting to connect with the environment in a more intimate manner.
4) Playa Maroma
Spectacular Sunrises: Playa Maroma is a beautiful beach in Riviera Maya enjoys a geographical position that affords visitors the spectacular experience of watching the sun rise over the Caribbean Sea. The wide expanse of sky showcases breathtaking colors, from deep oranges and pinks to soft purples, as the sun ascends the horizon. This daily natural event is a dream for photographers and a profound experience for any early risers who wish to start their day with a reminder of nature's majesty.
Water Adventures: Beyond its stunning landscapes, Playa Maroma is a haven for water sports enthusiasts. The beach is known for an array of activities, including jet skiing, parasailing, and deep-sea fishing. The thrill of jet skiing gives a rush of adrenaline while parasailing offers an unparalleled view of the coast from high above the waters. For a more laid-back adventure, deep-sea fishing tours are available, where participants can venture out into the depths of the Caribbean to catch a wide variety of fish.
Luxury Resorts: Playa Maroma is synonymous with luxury, boasting some of the Riviera Maya's most prestigious resorts. These establishments cater to guests who are seeking a lavish experience, with sophisticated accommodations, gourmet dining, world-class spas, and personalized service. The resorts are designed to complement the natural beauty of the area, offering spectacular sea views and direct beach access. This high-end environment ensures a stay of comfort, luxury, and unparalleled relaxation.
5) Playa Ruinas (Ruins Beach)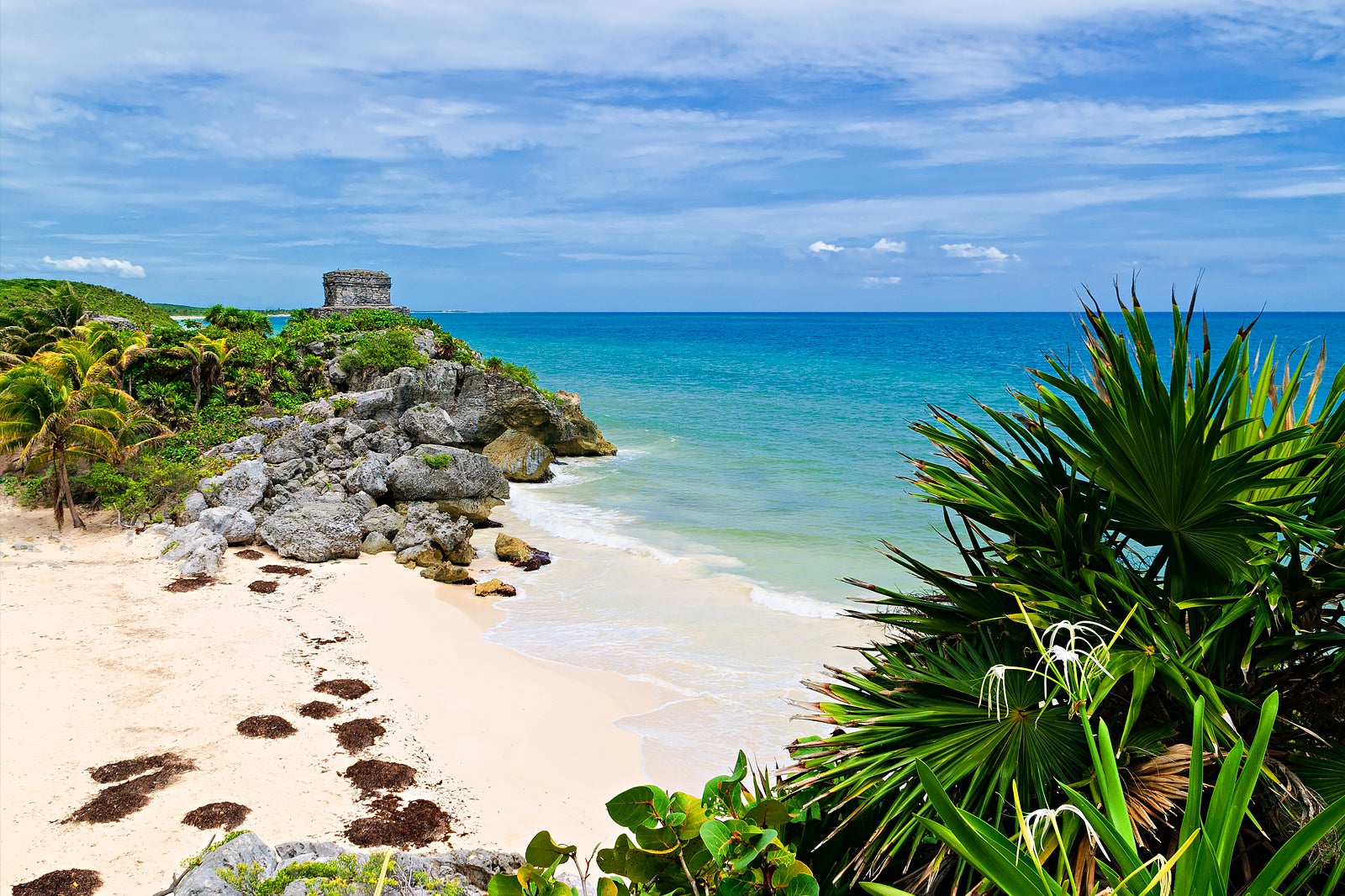 Historical Backdrop: What sets Playa Ruinas apart from other beaches to visit in Riviera Maya is its extraordinary historical backdrop. This beach is uniquely situated beneath the ancient Mayan ruins of Tulum, providing a beach experience steeped in history. The preserved structures stand on a cliff above the beach, adding a mystical and awe-inspiring element to the scenic landscape. Visitors can swim in the shadow of these archaeological wonders, connecting with the rich past of the area.
Wildlife Encounters: Playa Ruinas' proximity to the Tulum National Park makes it a prime location for wildlife encounters. The beach and its surrounding areas are habitats for various local species, including the iconic iguanas that can often be seen sunbathing on the rocks.
Photography Hotspot: The combination of ancient Mayan ruins, stark white sands, and the contrasting blue of the Caribbean Sea makes Playa Ruinas a magnet for photography enthusiasts. This dramatic juxtaposition of man-made and natural elements creates stunning visuals at every turn. Photographers will find endless inspiration here, whether capturing the grandeur of the ruins against the beachscape or the intricate details of wildlife and plant life.
6) Mamitas Beach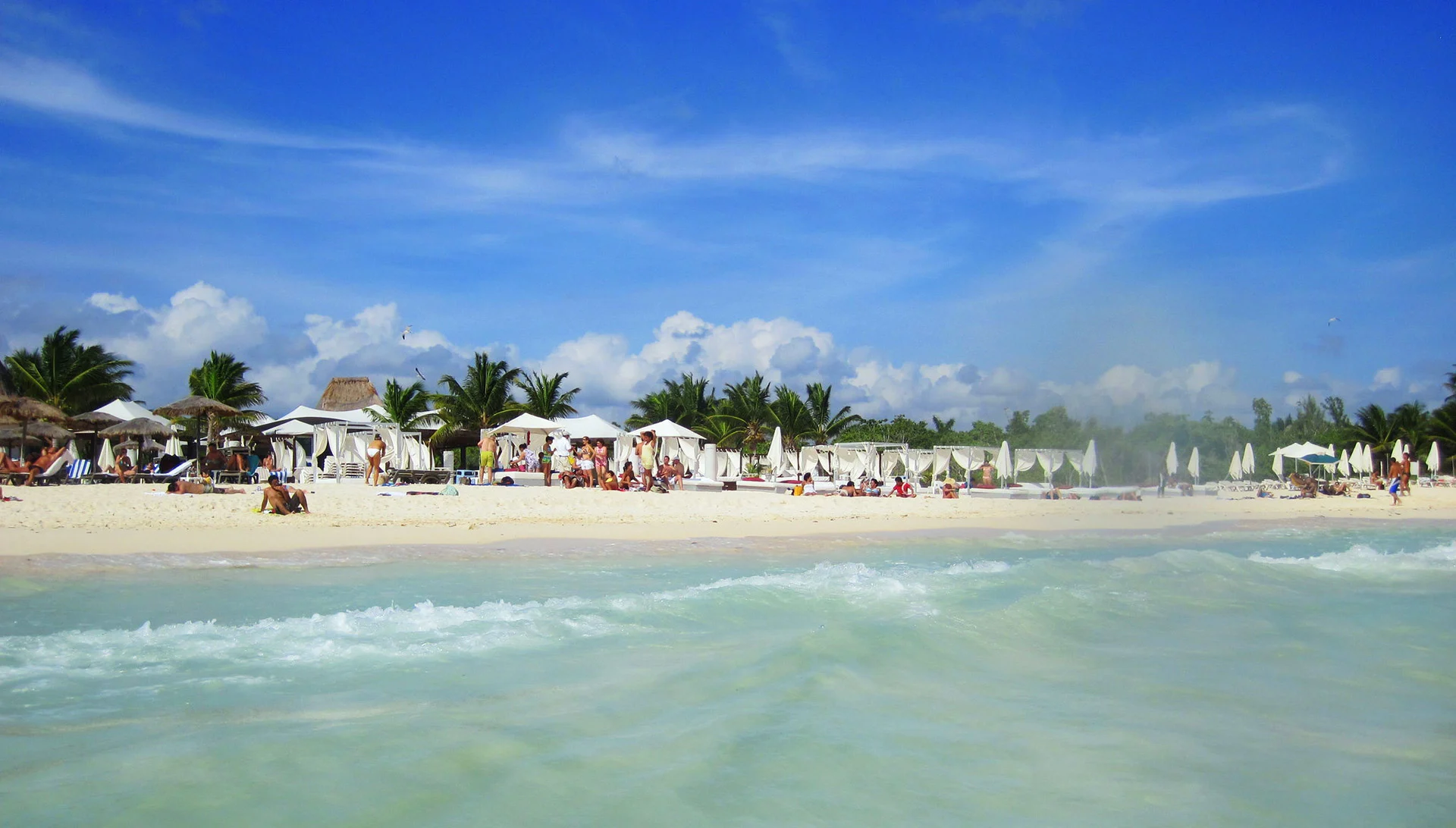 Vibrant Atmosphere: Known for its energetic vibe, with frequent events, music festivals, and a lively beach crowd, Mamitas is one of the most visited beaches in Riviera Maya.
Beach Clubs: Features some of the most popular beach clubs in Riviera Maya, where visitors can rent loungers, enjoy cocktails, and listen to live DJs.
Proximity to Playa del Carmen: Just steps away from local restaurants, bars, and the bustling Quinta Avenida (5th Avenue) for shopping. You can easily reach here by taking a private yacht charter Playa Del Carmen.
7) Playacar Beach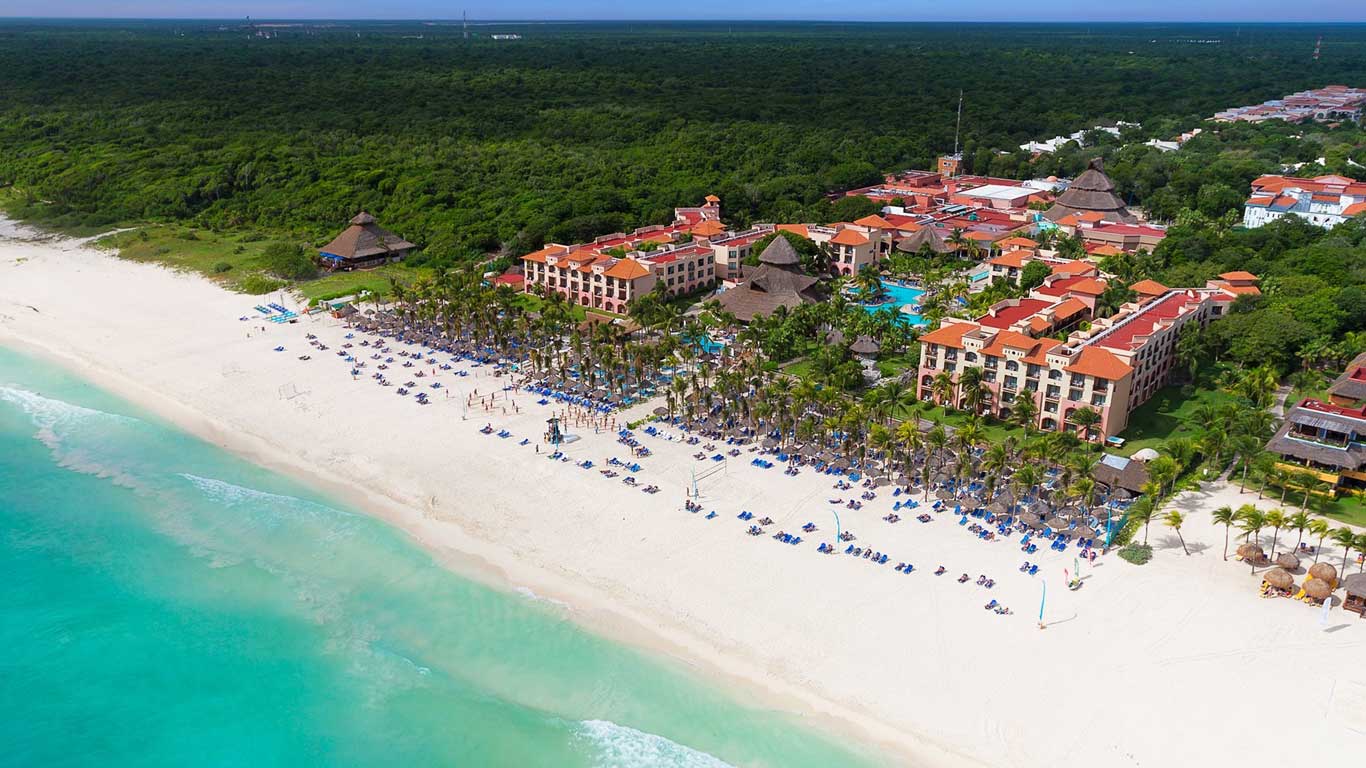 Exclusivity: Playacar Beach is situated within Playacar, a gated community known for its exclusivity just south of Playa del Carmen. This private setting ensures a more secluded beach experience, often attracting visitors who prefer a quieter, more personal space to relax.
Pristine Conditions: Not only known for its exclusivity, Playacar Beach prides itself on the pristine condition of its sands and waters. The beach is exceptionally clean, thanks to maintenance efforts that keep the sands free of debris and the waters clear.
High-End Accommodations: As part of a luxurious enclave, Playacar Beach is surrounded by high-end accommodations, including upscale resorts, boutique hotels, and private villas. These accommodations are known for their opulent amenities, offering guests everything from world-class spas to gourmet dining options.
8) Puerto Morelos Beach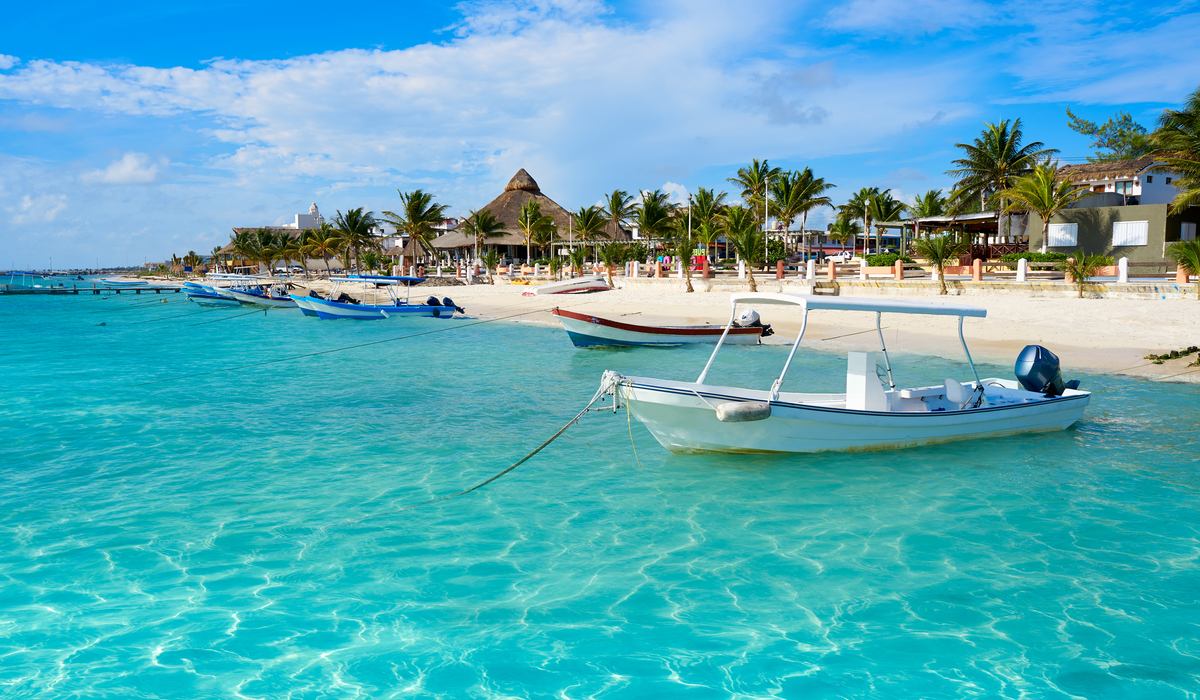 Rich Marine Life: The beach is part of a marine park with a protected coral reef, offering outstanding snorkeling and diving experiences.
Authentic Mexican Village: Retains the charm of a traditional fishing village with a relaxed atmosphere, local markets, and seafood restaurants.
Cenotes: Proximity to some of the area's beautiful cenotes (natural sinkholes) for swimming and diving.
9) Playa del Secreto (Secret Beach)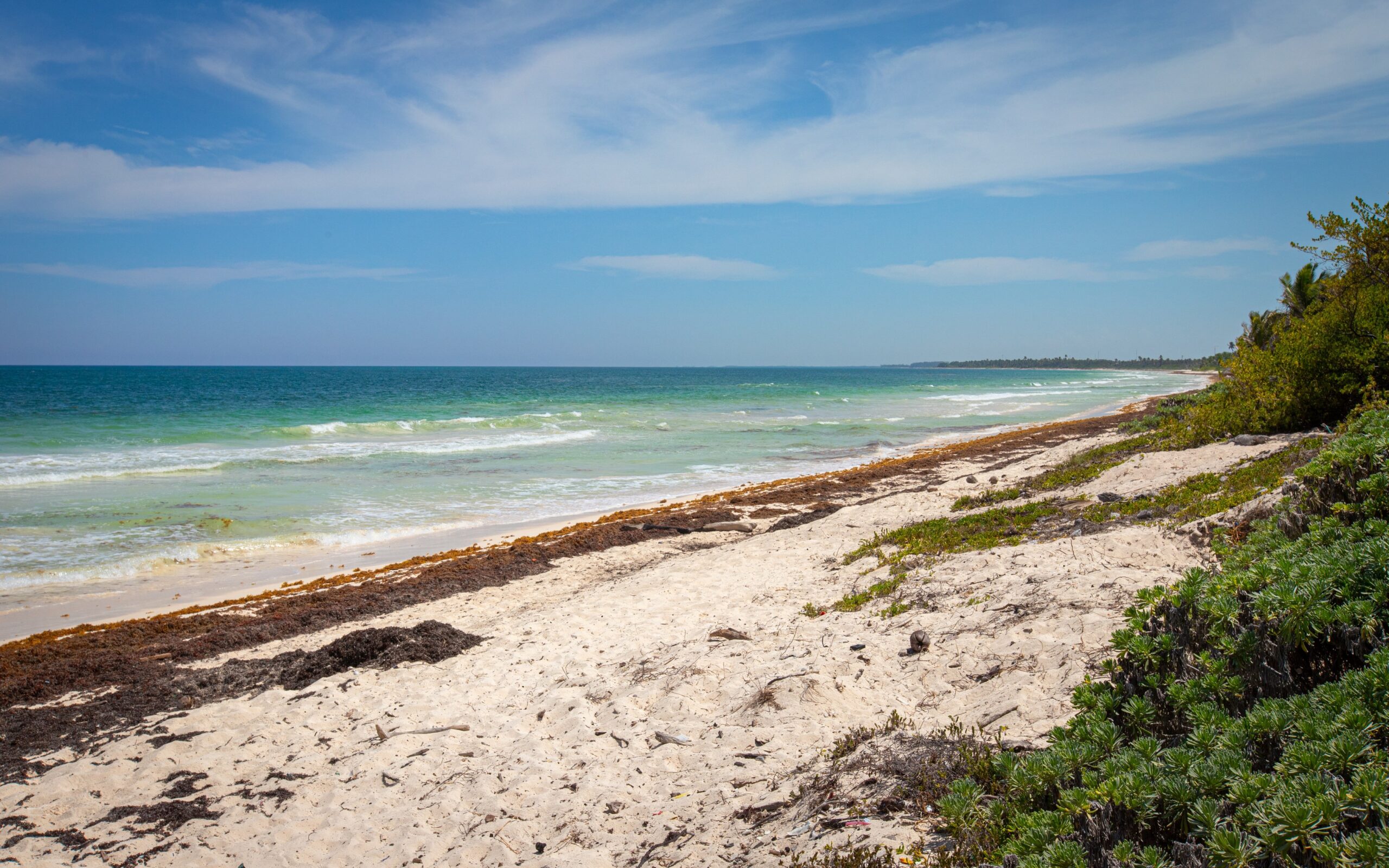 Privacy: As one of the most secluded beaches in the area, it offers visitors a serene, crowd-free environment.
Natural Settings: The beach is less commercialized and retains much of its natural charm, flora, and fauna.
Vacation Rentals: Exclusive villas and vacation rentals offer the opportunity for a private, home-like stay on the beach.
10) Playa Punta Esmeralda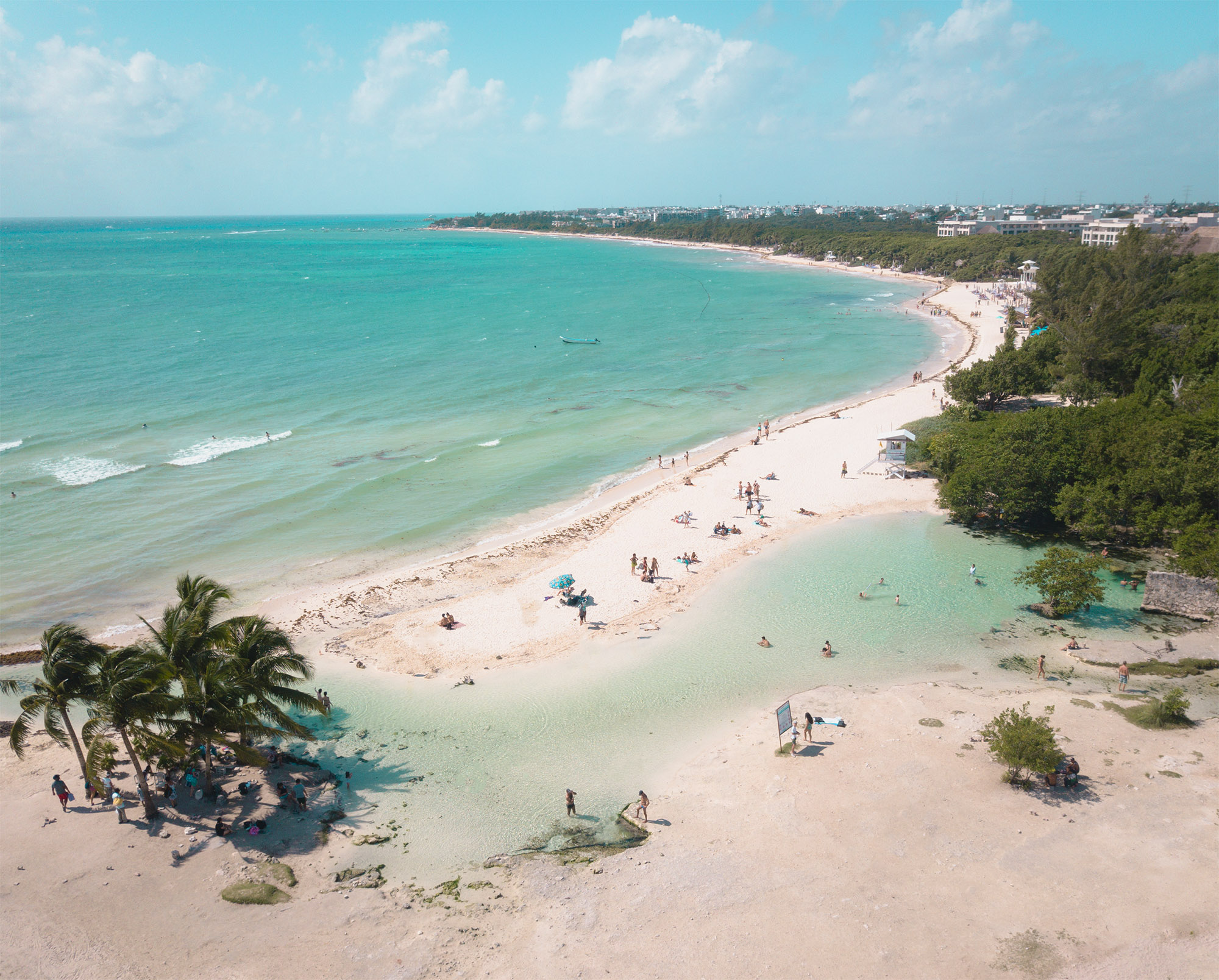 Freshwater Cenote: The presence of a cenote with fresh water spilling into the sea is a unique feature, perfect for a refreshing swim.
Local Hangout: Popular with residents, it's the place to experience the local lifestyle away from the tourist crowds.
Free Entry: Unlike beaches attached to resorts, Punta Esmeralda is open to the public at no cost, including access to its cenote.
Way Forward
From the serene, secluded shores of Playa del Secreto to the vibrant energy of Mamitas Beach, the Riviera Maya's coastline promises unforgettable experiences for every traveler. Each beach, with its unique character and charm, contributes to the region's reputation as a tropical paradise. As you plan your 2023 getaway, let this guide lead you to the sun-soaked adventures awaiting in the Riviera Maya's best and most beautiful beaches.
Remember, while every beach is captivating, the Riviera Maya's true beauty lies in its ability to cater to the desires of every visitor, making it a truly unparalleled destination.
Now that you are ready for your trip, don't forget to book a Tulum boat rental to make your trip more convenient yet fun!