We've created an exciting list of things to do & places to visit Around Riviera Maya, Mexico
Millions of tourists visit this Caribbean Sea coast each year to indulge in a fantasy vacation on its white sand beaches and turquoise waters. You can experience a number of the best sights of the ancient Mayan civilization, one of the most exquisite cuisines in the world, as well as unwind on the beach and discover its beautiful coral reefs.
If you are also wondering what are the best things to do in Riviera Maya or what are the best places to visit in Riviera Maya, we have got you covered. Here are 10 things to do around Riviera Maya and 10 of the best places to visit in Riviera Maya.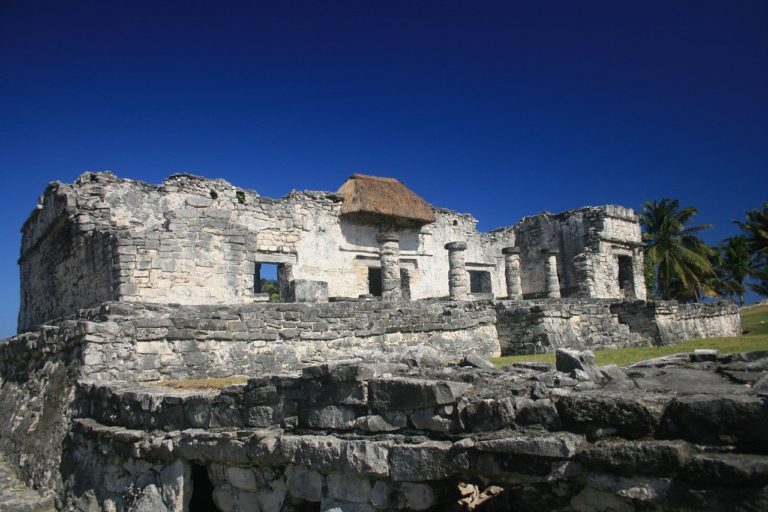 10 Things To Do In Riviera Maya
1. Float in the ancient Maya canals
Reserva de la Biosfera de Sian Ka'an, a 1.3 million-acre reserve of mangroves, savannahs, pristine lagoons, and unspoiled beaches, is one of the most biodiverse areas in the world. The largest protected region on Mexico's Caribbean coast is located just south of Tulum and is a traveler's paradise for eco-tourists. Only a small portion of the Sian Ka'an is approved for sustainable eco-tourism, while the bulk is off-limits.
2. Snorkel with turtles
On Highway 307, Akumal Bay is roughly 16 miles north of Tulum. Akumal, which in Mayan means "place of the turtles," is one of the first coastal tourist destinations in the Yucatan.
One of the unique activities in the Riviera Maya is snorkeling with turtles in Akumal. Going in the afternoon will help you avoid the crowds as the mornings are usually busier.
3. Swim in a cavern
The Yucatán Peninsula has a hidden underworld with blue lakes and mysterious tunnels beneath its beautiful vegetation. The Mayan people treasured cenotes and utilized them for communicating with the gods. You can now understand why these caves were so important to the Maya culture.
You may swim amongst lit stalactites and stalagmites and maneuver through confined spaces in the clean, mineral-rich water of Cenote Dos Ojos.
4. Whale shark tours
Many tourists reserve their guided trip from their hotel in Cancun (or Playa del Carmen). To reach the whale shark feeding area, a 2-hour powerboat voyage is usually required.
Seasickness can occasionally be a problem during a boat ride because the ride can occasionally be turbulent. The alternative method for swimming with whale sharks in Cancun is to take an early-morning bus from Cancun to Chiquila.
The boat ride to the whale shark feeding area is still somewhat lengthy, but some claim the waters are calmer, and seasickness is less of an issue when you take the boat tour from Isla Holbox.
5. Planning a cruise on a private yacht charter in Riviera Maya
Whether you choose a morning tour or a sunset cruise, H2OH Sun Cruises will give you your ideal vacation. Plan your schedule accordingly. Fish and have our crew prepare your catch, snorkel in amazing coral reefs, swim in clear seas, and you can even ask for a diving tour!
You receive more than just a boat when you choose H2OH Sun Cruises for your yacht charter in Riviera Maya. They provide you with various chartering options that are hardly ever available elsewhere. Fresh meals, an endless open bar, paddle boards, snorkeling equipment, and a knowledgeable, licensed crew to attend to your every need are also included.
6. Swim in the Laguna Bacalar
For those who enjoy deviating from the norm, we'll let you in on a little secret: A serene, little-known lake with overwater hammocks, stromatolite-rimmed shoreline, and inviting minty water, Laguna Bacalar is located not far from Belize's border. The water changes between a pale turquoise and dark indigo, earning the name Laguna de Siete Colores.
7. Watch the sunrise on a SUP
At sunrise, the Riviera Maya's seas are at their most inviting. The beach is mainly stranded except for a few other early risers when the water is as smooth as glass. Instead of Playa del Carmen's typical boisterous environment, a calming silence is accentuated by the cries of seagulls flying overhead and the waves lapping against the shore.
8. Surf at Puerto Aventuras
Due to the ideal swells and sea conditions, Puerto Aventuras is one of the Riviera Maya's greatest surfing beaches. Seawalls surround the beach, which naturally curves away from the open ocean.
Make reservations for Nohoch Surf School's enjoyable, engaging classes for you and your children. From 4 to 12-year-old, children receive glowing ratings for their mini surf camps. If you're an experienced surfer, you can rent some fantastic boards from the school.
9. Learn To Cook Maya Ancestral Cuisine
Discover a part of the Riviera Maya that few have seen by taking a crash course in Maya ancestry cuisine. You may get to know a local Maya family, get a glimpse into their lives, and learn everything about Maya ingredients, traditional foods, and culinary techniques when you sign up for a cooking lesson with them.
You can experience all this at Maya Immersion, from tasting the achiote spice to preparing your own Massa (corn paste) and wrapping your tamales.
10. Experience The Cirque du Soleil Joya performance
Only on the Riviera Maya, at a magnificent location specially created for Joya, can Cirque du Soleil perform Joya. The quirky theatre, which is fashioned to resemble a massive blue cenote, may be reached through a wooden path that circles a lagoon.
Be enthralled by the amazing feats performed by trapeze artists swinging on vines, a mermaid contortionist, jugglers, an Olympic gold medalist in gymnastics, masked wrestlers, and other performers.
10 Places To Visit Around Riviera Maya
1. Tulum
The most picturesque spot around the Riviera Maya is Tulum, a popular holiday spot. Here, you may see the ruins of a Mayan city perched on a cliff overlooking the Caribbean Sea's crystal-clear waters and vibrant turquoise hue. In roughly two hours, you may tour the complex of Tulum's ruins, after which you can explore the beach at the base of the complex. Unquestionably one of the most magnificent places on earth. You can also contact H2OH Cruise to rent yacht in Tulum.
2. Sian Ka'an Biosphere Reserve
The Biosphere Reserve at Sian Ka'an is the largest protected natural area in the Caribbean. You can find mangroves, practically uninhabited white-sand beaches, freshwater springs that emerge from the ground, and a partially submerged Mayan temple in this region. Numerous birds, crocodiles, manatees, turtles, dolphins, spider monkeys, pumas, and even jaguars are among the abundant wildlife.
3. Akumal
Akumal, also referred to as the "Place of the Turtles," is a well-liked destination for day trips from the Riviera Maya. It is an ideal location for swimming and animal viewing because it has 5km of immaculate beach and a lovely lagoon.
There are five unique bays, each with crystal-clear waters, shady palm trees, and a wealth of superb bars and restaurants for night-time entertainment, so it's simple to understand why this town has such a fantastic reputation.
4. Playa Del Carmen
The Riviera Maya's core, Playa del Carmen, is the best place to explore the rest of the area. While this well-known town draws many tourists, it still has some of its hometown charms.
You may locate many pubs, restaurants, and gift shops by strolling down Fifth Avenue. If you turn back a few streets, you'll find markets with fresh ingredients and street vendors serving mouthwatering tacos.
5. Chichen Itza
A must-do in the Riviera Maya is to visit Chichen Itza, one of the modern world's seven wonders and one of Mexico's most well-known tourist destinations. Some of the most significant structures from the spectacular Mayan city, including the Pyramid of Kukulkán and the Ball Game court, are still standing today. Ik Kil is one of the Riviera Maya's most outstanding natural attractions; it can cap off the about 4-hour tour to the entire complex.
6. Holbox
The idyllic island of Holbox is just over two hours away from the major Caribbean coastal cities, making it one of the Riviera Maya attractions. Even though it receives more visitors daily, this small island maintains a tranquil ambiance on its white sand beaches and turquoise waters, which you can explore on foot or by golf cart. Watching the breath-taking sunsets from Punta Coco, strolling along the beach to Punta Mosquitos, or exploring the town's core in search of amazing graffiti are some of the other top things to do in Holbox.
7. Coba
One of the largest archaeological sites in Mexico, the ruins of Coba contain several buildings and monuments dispersed across the jungle. You can also tour the entire site on foot. To explore all of its most fascinating features, including the Nohuch Mul pyramid, the tallest on the Yucatan Peninsula at over 137 feet, you may rent a bike. You can ascend to the summit of the most impressive pyramid, which offers panoramic views of the ruins and the jungle, utilizing support ropes due to its steep slope.
8. Izamal
Izamal, another destination on the Riviera Maya, is one of Mexico's most stunning communities and is situated halfway between Merida and Valladolid. The centre of this lovely town on the Yucatan Peninsula is lined with stunning, recognizable yellow houses. A stroll around Izamal's picturesque old town, where you can view lovely colonial homes and Mayan pyramids, is the nicest thing you can do there.
9. Isla Mujeres
Another destination to visit in the Riviera Maya and one of the greatest excursions in Cancun is Isla Mujeres, which is 8 miles from Cancun and encircled by the Caribbean Sea. The island's crystal-clear waters and spectacular coral reefs make it ideal for snorkeling and scuba diving. To travel to the El Garrafon marine park or Playa Norte, one of Mexico's most stunning beaches, you can also rent a motorcycle or golf cart.
10. Puerto Morelos
Puerto Morelos, Cancun's less well-known neighbor next door, is brimming with old-world charm. This is the spot for you if you seek flawless golden sands, abundant waterways filled with exotic marine life, and a genuine Mexican town. Here, you won't find large resorts or boisterous crowds of tourists; rather, you'll have the chance to participate in genuine relaxation and discover a bit about the local way of life.
Conclusion
Just be careful not to rush. The only way to truly understand the Riviera Maya is to take time to unwind and take in the breath-taking views of Mexico while visiting.