Where to eat in playa del carmen?
A Bite of Paradise – Restaurants in Playa del Carmen
There is no shortage of restaurants and food in Playa del Carmen. With that said, we often get asked where are the best restaurants in Playa del Carmen? It can be a tricky question to answer because one person's great experience at a restaurant may seem like a completely different experience for someone else.
There has been a lot written about restaurants in Playa del Carmen – every guidebook has a listing – countless blogs, popular reviews sites, travel forums, apps, all offering opinions. With so much information available, how do you choose? Love it or hate it, here is a small list of restaurants from cheap eats to fine dining.
CHEAP EATS – Brunch
Chez Céline
Price Range: $$
French, Breakfast, Brunch, Bakery
Monday – Sunday: 7:30 AM to 10:30 PM
Location: Av 5ta, Calle 34 Nte Esquina
Chez Céline is an little oasis in Playa del Carmen. Here you will find a French restaurant that gives you a taste of France for a very affordable price. Everything is made fresh in-house, with 100% natural ingredients. With their bakery onsite, the food is delicious, and there are always customers waiting in line to get their first taste of traditional French cuisine. Follow the rich smell of freshly baked bread, and enjoy one of Playa del Carmen's favorite restaurants to locals and tourists.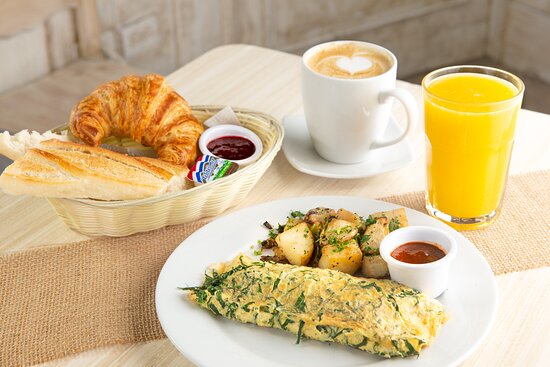 CHEAP EATs – Tacos
EL Fogon
Price Range: $
Authentic Mexican
Monday – Sunday: 7:30 AM to 10:30 PM
Location: CALLE 6 NORTE BIS, Y 30 AV
If you ask locals where they get their favorite tacos in Playa, El Fogon is always a well-recommended choice. This restaurant is so beloved that it's often crowded, but the wait moves quickly, and the food comes out fast.
One standout menu item is El Fogon's tacos al pastor. Having tried tacos al pastor all over Mexico, these are honestly some of the best you'll ever have. There is a special ingredient in their marinade, and if you can guess what this is before you book a yacht charter with H2OH, we'll give you a 10% discount. You might be surprised by the answer!
If you're looking for authentic and genuine Mexican food, we highly recommend El Fogon. There's no denying that it's an absolute Playa del Carmen classic!
*There are a few locations. The location listed above is our recommendation.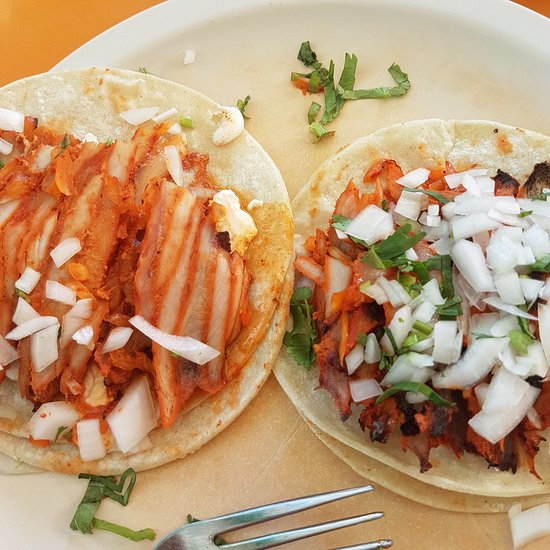 Midrange – Tostadas, Seafood
las hijas de la tostada
Price Range: $$$
Authentic Mexican
Monday – Sunday: 11:00 AM to 10:00 PM
Location: 5 Av y Calle 38,
If you're in the mood for fresh seafood, Las Hijas de la Tostada ("The daughters of toast.") is a great choice! The literal translation is "The daughters of toast". As may be expected, the house's specialty is seafood **tostadas, and there are many unique flavor combinations to enjoy. Savor the fusion of the flavors of the Pacific combined with the tropical flavors of the Caribbean. The shrimp Aguachiles are a must-try.
The restaurant has two locations on 5th Avenue, one of which is on Calle 38, the other is on Calle 2, which is above the street level. The location on Calle 38 has a chill vibe to it, a great place to people watch and enjoy a cold Cerveza. You're in for a treat with every flavorful bite, no matter the location.
**A tostada is a flat tortilla, usually made from corn, either toasted or deep-fried, not what you have for breaky and PB & Jam.
Online translators don't always work, literally! Some of them are hilariously wrong. Watch out for this blog, coming soon!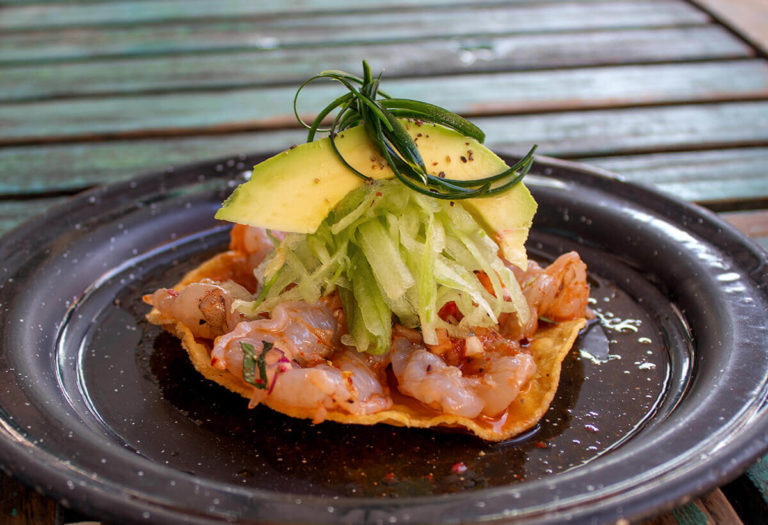 Midrange – Bar & Grill
The Freaky Tiki Bar & Grill
Price Range: $$$
American, Mexican
Everyday but tuesday: 3:00 pM to 11:00 PM
Location: 1oth Av, Y Calle 22
The Freaky Tiki Bar & Grill is relatively new and not widely known yet, but it's catching on quickly with the locals, including expats like us. The owner is a very friendly Newfoundlander who put aside his shop tools and equipment in favor of tinkering with tropical cocktails and tiki torches. His favorite quote is "loves it, see I do," and he did just that.
It's safe to say that the Freaky Tiki is a hidden gem outside of the chaos of 5th avenue, located on 10th ave and 22nd. The restaurant is situated in front of a quaint hotel tucked behind the thatched-roof Tiki bar. The atmosphere is charming and picturesque, complete with a pool, palm trees, and a beautiful garden area for food and cocktails.
The drinks will keep you cool and relaxed, and the food will leave you satisfied, but the restaurant's ambiance sets it apart. Here's a little insider intel—there's one super-secret item which is not on the menu—it's the Maple Burger, and it's pretty darn good.
The Freaky Tiki is a great playground for locals, expats, and tourists who want to make great memories with old and new friends. They often have live music, which you can find posted on their Facebook page.
When you're planning a visit to Playa del Carmen, it may be easy to overlook this restaurant. The handful of TripAdvisor 5* ratings might not lead you here, but sometimes the best experiences are off the beaten path. What more do you need? Good Food, Good Drinks, Good People, Good Live Music & Great Atmosphere.* Get on the Go! *To get going or to have a good time.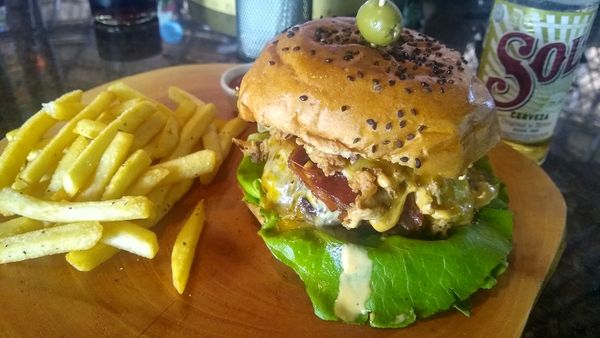 HIGHEND – fine Dining
oh la la – by george
Price Range: $$$$
Seafood, International , Mediterranean
Monday – Saturday: 6:00 PM to 10:00 PM
Location: Calle 14 north Bis, between 10th Av. And 15th Av
From its humble beginning in 2011, Restaunteers George and his beautiful better half (sorry George – you know it's true), Mikaela set out to create a dining experience like no other offered in Playa del Carmen.
Their concept was refreshing yet straightforward – Curate an intimate dining experience in a welcoming atmosphere, paired with impeccable service and incredible food. It is a special space where people can come together to celebrate with friends and family or indulge in a gourmet meal. Their connection with their customers goes beyond diners and into friends and followers, where they seek to create everlasting memories. They have taken this concept, developed it, fostered it, and adapted it as the foundation for everything they do.
Now let's dig. The food is superb! The Chef prepares flavorsome dishes, using only first-class ingredients that will captivate your taste buds. The menu is well crafted, not extensive, and is designed this way, with purpose. Their dishes have a lot of heart, with a touch of sophistication. They also have a beautiful wine selection, and they know how to make a cocktail.
Oh, lala is a restaurant that provides delicious food and a memorable experience for its customers. It has an inventive menu and a relaxing and romantic atmosphere. If you are looking for a fantastic meal, Oh lala is sure not to disappoint.
It is a small restaurant with only nine tables and two dinner services, so we strongly suggest that you make reservations. Restaurant goers, be sure sure to check out other culinary delights By George right here!