What sounds better than a Bachelorette Party in Mexico !?
A bachelorette party is the celebration dedicated to the bride-to-be. Usually, it is arranged and thrown by her friends or family who want to show their love and support for the bride. The occasion can be anything from a simple, intimate dinner to an extravagant weekend-long event with all of the guests that she's ever known in her life.
The party originates in ancient Rome, where the bride was secluded from society for 12 hours before her wedding ceremony. This period of seclusion was called the "hilaria." The "hilaria" was celebrated by donning masks and dancing through the streets.
In modern times, bachelorette parties are usually held on or near the eve of the wedding day or night. The perfect bachelorette party can be a lot of things. But, it should be tailored to the bride's personality and interests. The goal is to have a blast and to make it an unforgettable experience for everyone present.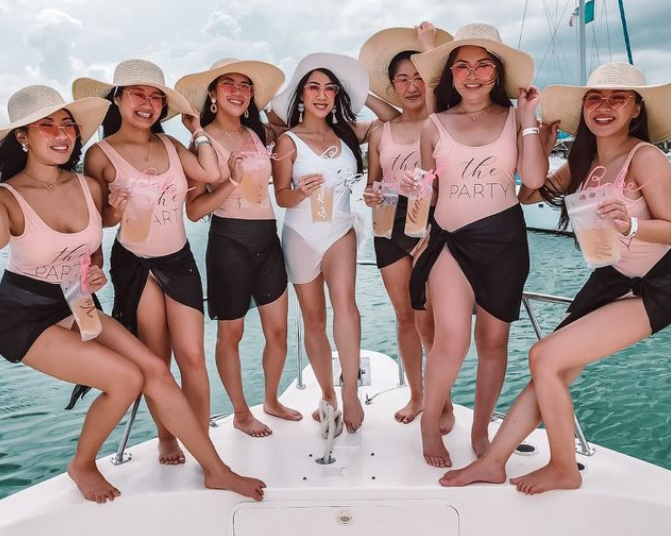 How To Have a Memorable Bachelorette Party
The best way to have a memorable experience is to plan it in a destination that is different from the usual. For example, a Mexico bachelorette party is a popular choice for a lot of brides-to-be.
Mexico is not just a beautiful country – it also has many activities and places for you to explore and enjoy as a group. Many zip-lining tours in Mexico will satisfy your need for adventure if you're looking for an adrenaline rush. On the other hand, if you want to do something more relaxing and serene, you can relax on a yacht in Tulum.
Tulum is a small town on the coast of the Yucatan Peninsula that caters to millions of tourists yearly. It has white sand beaches, turquoise water and plenty of restaurants and hotels. So throw a Tulum bachelorette party and have fun in the sun while enjoying the ocean breeze with your friends.
Here are five essential guidelines to have the perfect yacht getaway:
Define Your Expectations
Rather than planning for a party in any direction, it will help you know what the attendees are expecting from the get-go to put things in perspective. Be sure to keep communicating during this process. When planning a surprise bachelorette party, make sure to consider the bride's preferences as well as her dislikes.
It would be best if you first talked to someone with experience, like an event organizer, about your expectations. They'll be able to tell you what's reasonable and what isn't for a Mexico bachelorette party. Plus, you'll have their expertise guiding you to make the event easier to plan.
Set a Budget
While many people would argue that the bride's happiness is priceless, it doesn't mean you shouldn't set a budget for the event. Planning the budget for the Mexico bachelorette party is an essential consideration. For example, there are many places that offer yacht hire in Tulum at varying prices. When you have a budget, you will know the class of boat to rent, the type of food and drinks to get and other extras needed.
Choose a Theme
The bachelorette party is perfect for letting your hair down and having a little fun. While selecting your party theme, you might want to be creative.
Bachelor Party Theme Ideas
There are endless options when it comes to themes for bachelorette parties, but the following are our favorites:
Under the Sea: Show off your fun personality with an "Under the Sea." The girls can dress as mermaids to take epic yacht photos.
Tie the Knot: An activity-filled party is the best choice for fun-loving brides. Experience an early morning bike ride along the beach, and then board your private yacht charter for a trip down to a secluded swim spot that's only accessible by boat.
Anything Blue: This theme is perfect for those who want to keep it simple. A blue-themed bachelorette party on the pacific ocean is sure to create memories that will last a lifetime.
Let's Get 'Nauti': Have a dancer pose as one of the crew members and have them do a choreographed dance once on board. After many cheers and laughs, continue the evening by going to local pubs with the girls.
Coordinate
Planning the best Tulum bachelorette party can be pretty exhausting. It's easy to get caught up in ensuring that everyone has a great time, to the point that you become so stressed and end up not enjoying the party. Therefore, to avoid burnout, you must assign a task to everyone attending the event. For example, one must be in charge of the games, while someone else should be responsible for drinks.
Rent the Best Boat
Finally, make sure to rent a yacht for a day. There are many options available, but if you're looking for the best yacht hire in Tulum, the vessels by H2OH Sun Cruises are top-notch.
H2OH Sun Cruises provides all-inclusive, private yacht charters with you in mind. They are the largest fleet of privately-owned yacht charters in the area, with over a decade of operation under their belt. So, rent a yacht for a day with H2OH and book online!