Trying to decide where to stay in Tulum?
Whether you're a nomad seeking good WiFi…
…a family needing an all-inclusive
… or you simply want a hotel that captures the essence of the boho Tulum lifestyle you've heard so much about…
We've got you covered!
Where to Stay in Tulum & Why:
Esmeralda Boutique Residences & Hotel – $$
Dreams Tulum All-Inclusive – $$
Be Tulum – $$$
Papaya Playa Project – $$
Coco Tulum – $$
Azulik -$$$
---
1. Esmeralda Boutique Residences & Hotel
Average Price Per Night: ranges from 42 – 150 USD
Kid-Friendly
Self-Catering
If you've seen pictures of this place, it's even more beautiful in person.
It feels like your own spa sanctuary. 
Let's just say, if you're into interior design Esmeralda will not disappoint. 
There's a different photo opportunity at every turn. 
Currently, it's only available to book on Airbnb but word on the grapevine is they're launching their own website soon.
It's not a beachfront residence and the price reflects that (there are options to suit all budgets)  but the location is still great.
 A stay here means you will just be a short bike ride into town and around a 10 minute bike ride to the beach.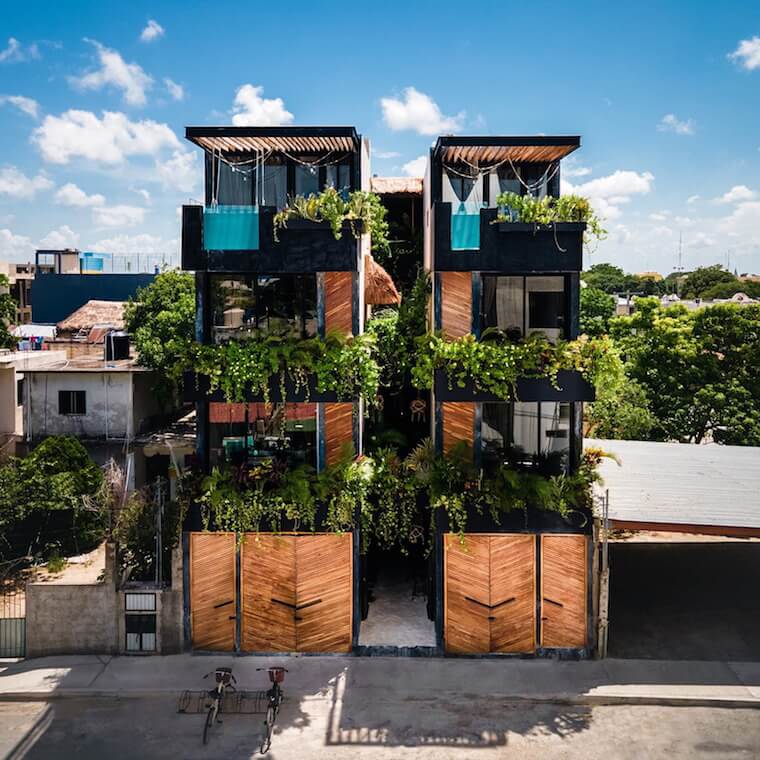 For nomads there is WiFi to work however, it does have a tendency to go down at night – a common issue in the whole of Tulum. 
One of the best parts about staying here is that there is always someone on the front desk to assist you no matter what time you check-in or check-out. 
There's also menus inside your room if you don't feel like eating out. 
All you have to do is WhatsApp the concierge at the front desk and pay for it visa debit or credit card. 
Inside each of the rooms, there is a full mini-kitchen, with coffee makers and dishes, and none of the rooms are exactly the same which I love!
They are all unique. 
As Esmeralda is located in a neighborhood of Tulum it's not always super quiet… you might hear dogs barking or people walking up the stairs but if you're from the city this shouldn't bother you too much, and it's not loud enough for you to put you off booking.
2. Dreams Tulum
Average Price Per Night: 330 – 440 USD
Kid-Friendly
All-Inclusive
Surprisingly, there aren't that many all-inclusive hotels in Tulum, especially if you are looking for kid-friendly accommodation.
Luckily, there is Dreams Tulum!
I'm such a fan of the Dreams hotels because they never fail to deliver world-class service, incredible accommodation, and overall just brilliant hotels.
This one in particular is an award-winning AAA Four Diamond resort.
So, if you are looking for that 5* resort experience that comes with all the luxuries you've become accustomed to on vacay but still want to experience the raw and largely undeveloped essence of Tulum – look no further!
I'll be honest I love Tulum, but I don't exactly fit in with boho-chic crowd.
I like my creature comforts.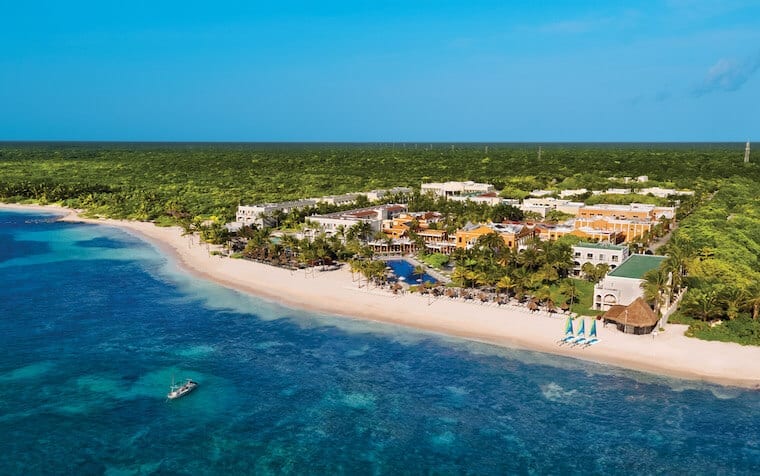 Dreams Tulum is also in a prime position to enjoy the best of what the region has to offer such as the Tulum Ruins, beautiful beaches, and even neighboring areas such as Xpu-Ha and Playa del Carmen.
Enjoy sugar white sands, lush tropical gardens, an epic jungle spa, 24-hour room service, 9 different restaurants, daily activities, a complimentary mini bar…the list goes on and on.
This one gets a personal thumbs-up of approval from me if you're looking for relaxing accommodation on a 2-week vacation.
3. Be Tulum
Average Price Per Night: 440 – 1200 USD (depending on room category)
Children aged 13 and above welcome
Breakfast Included
Be Tulum is set amid thick trees and tropical plants at Tulum beach's peaceful end, close to Sian Ka'an Biosphere Reserve. 
If you wanted to indulge in some celebrity standard treatment then this is a good place to start…
Staff and facilities at Yäan Wellness Spa are outstanding, with a 'water circuit' of showers, pools, sauna and steam room, and futuristic cabins for treatments by master therapists, including the intense Mayan-influenced Sobada Maya with rigorous stretching and a firm massage. 
In general, the hotel offers elegant suites, 3 on-site restaurants, one bar, and two sleek outdoor infinity swimming pools, plus an abundance of activities right on your doorstep.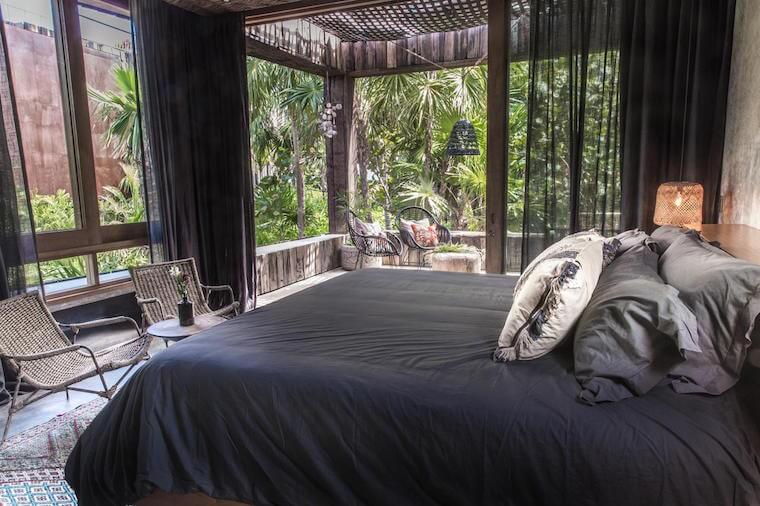 There are also free daily yoga and meditation classes, bikes, SUP-boards, and snorkeling gear available to borrow.
For me personally, this place is a little over-priced…but if you are craving the ultimate relaxation experience and want somewhere with a great spa it might be worth splashing the cash…I mean, you've got to live a little, right?
4. Papaya Playa Project
Average Price Per Night: starting at 279 USD
Kid-Friendly
Self-Catering
Next up… one of the most popular is the Papaya Playa Project…hailed for its barefoot luxury! 
The design of the hotel evokes the traditional Mayan way of building.
Papaya Playa Project adopted "Chukum," a technique used by the Maya to cool the interiors of buildings made principally with the resin of a tree with the same name.
This is used on the palapas, as well as on the interiors as an insulation system. 
The architecture is always functional and simple, using local traditions and wisdom, allowing Guests to interact more with Nature as the principal. 
Choose from Casas, Casitas, or Cabanas, the choice is yours, learn more on their website here.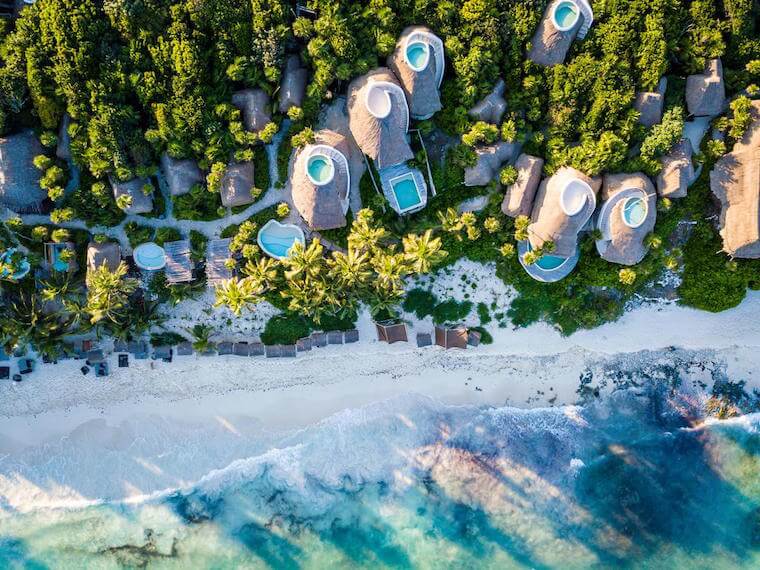 Papaya Playa Project organises events every saturdays and once a month a full-moon party. 
All the events feature music from international DJs at its beach bar.
There is also a spa specialising in Mayan Shaman therapies. 
Water sports and fishing are all available on the nearby beaches.
5. Coco Tulum
Average Price Per Night: 132 USD – 570 USD
Kid-Friendly
Self-Catering
Coco Tulum – where Tulum meets Miami! 
This hotel is located in one of the best areas of Tulum in my opinion. 
It features a private beach, amazing spa services, and a Mexican-Italian fusion restaurant. 
There are room and cabins available,  both of which offer free WiFi and views of the Caribbean Sea or Jungle. 
They all feature mosquito nets, and rooms in the main tower also include fans (no AC) and private bathrooms, while the cabins have shared bathrooms.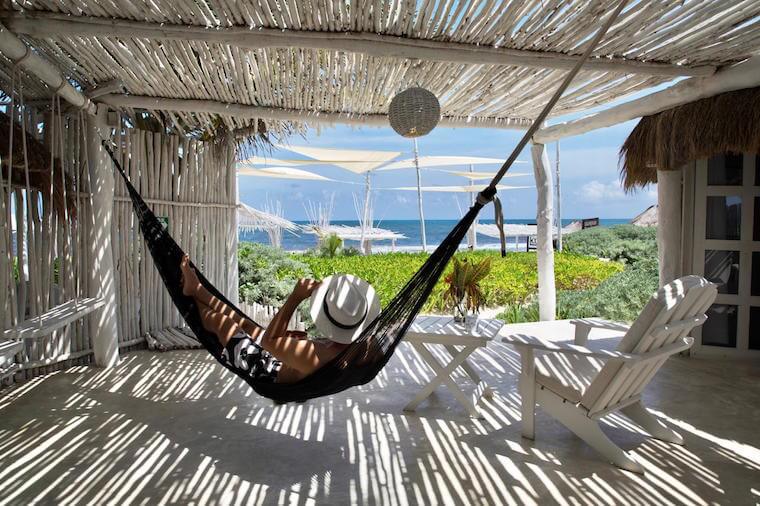 Be prepared that in Tulum A/C isn't as common as it is in more mainstream resorts largely due to most places wanting to uphold the eco-friendly vibes – so it can get a little hot, but if you can handle the heat, no sweat…it's totally worth it. 
Although children are welcome I wouldn't recommend this place to families it attracts a younger (good looking ;)) crowd that LOVE to party it up well into the night. 
Even if you don't end up staying here you can just visit the beach club and enjoy Coco Tulum's unique vibe from there anyway! 
6. Azulik
Average Price Per Night: 500 + USD
Adults-Only
On-Site Food at An Extra Charge
Azulik Eco Resort and Maya Spa is an adults-only beach resort and Mayan Wellness Centre.
It features a secluded, guest-only, clothing-optional beach at the south end of the property perfect for sunbathing or swimming.
The accommodations are unlike anything you will have seen before! Each spacious wooden treehouse is made from Mexican-royal-ebony Khatalosh and features floor-to-ceiling windows offering plenty of natural daylight. There are also mosquito nets and custom made in-door baths.
Each room has a private deck with outdoor day beds, seating areas, and views of the lush jungle and the Caribbean Sea.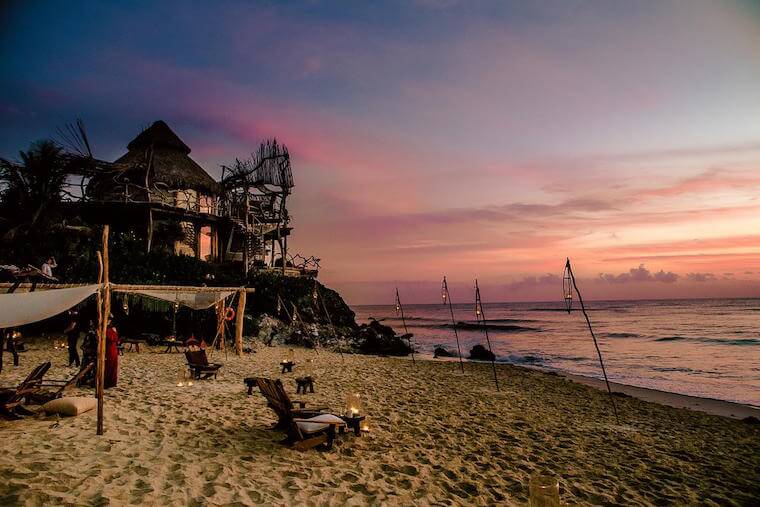 None of the rooms come with TV, phone or electricity so you can relax and reconnect with nature.
It's the ultimate retreat.
Here you can savor the flavors of an organic cafe which serves breakfast and lunch. There is also a beach bar and a seafront spa that utilizes traditional Mayan healing therapies, massages, medicinal herbal baths and traditional Mayan-sweat-lodge Temezcal treatments.
Join Us in Paradise
The beach of Tulum is calling your name!
Did we miss any hotels you think deserve to make the list?
Let us know in the comments section below we're constantly updating our info to bring you the best regional information on the web.
We are the closest private yacht charters to the area of Tulum so if you feel like cruising the best of what the Riviera Maya has to offer visit our main website here.
Prices starting from just $600 USD for up to 15 people.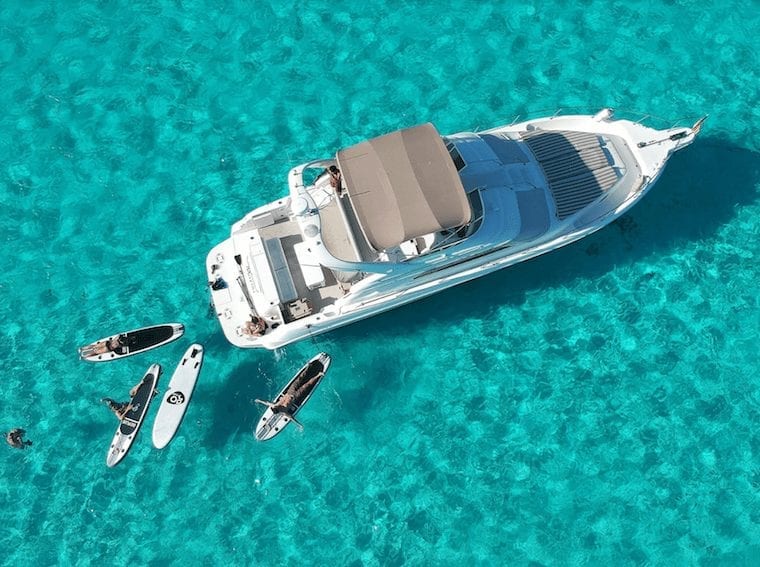 Because life's better on a boat!
All budgets, any occasion. At H2oh Sun Cruises we offer all-inclusive fun for everyone.
Rated #1 by TripAdvisor for 7 years in a row – come celebrate with us.
Additional Resources You May Find Useful