We've compiled a exciting list of best restaurants must visit in Puerto Vallarta
Puerto Vallarta, the poshest Pacific Coast vacation town, also has a rich restaurant culture, with everything from classic cantinas to avant-garde fine dining establishments.
Puerto Vallarta is known as the "Cancun of the Pacific" because of its profusion of high-rise hotels and position on a huge bay with sandy beaches and various islands. The "Cancun of the Mexican Pacific" is a popular moniker for this location.
Visitors come from all over Mexico and the United States to relax by the sea, and the city is recognised for its diversified restaurant scene, which caters to customers of various budgets and preferences.
Excellent restaurants abound in Vallarta, from those immediately on the beach to those nestled away in the old 19th-century centre, and many more can be found in the city's beachfront suburbs to the north and south.
Puerto Vallarta has a wide range of eateries, from fine dining venues to casual cafés and fast food shops.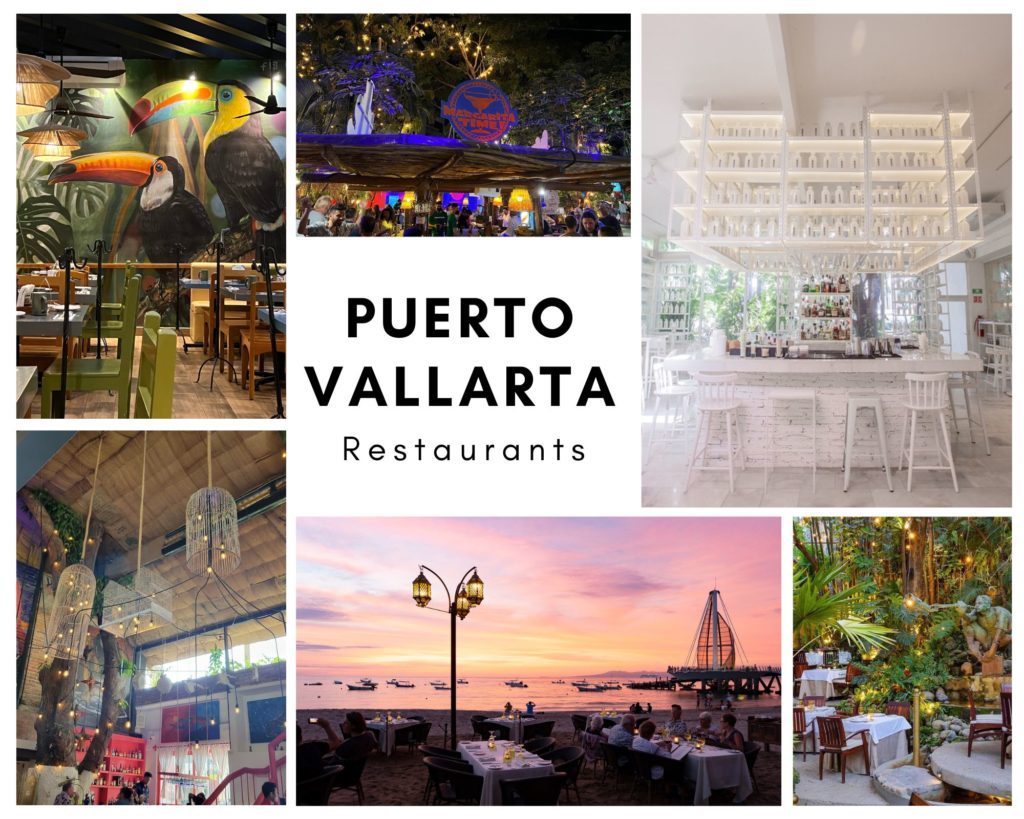 Some of The Best Restaurants In Puerto Vallarta You Must Visit
Below is a list of ten fantastic restaurants in Puerto Vallarta, along with menu ideas for each. The calibre of these restaurants ranges from simple mall eateries to sophisticated dining venues.
1. La Palapa Restaurant
You can find the La Palapa Restaurant right on Los Muertos Beach in the heart of Old Town. Opened in 1927, this restaurant is one of the longest standing establishments on the beach, serving up Mexican tropical fare in both air-conditioned and al fresco settings.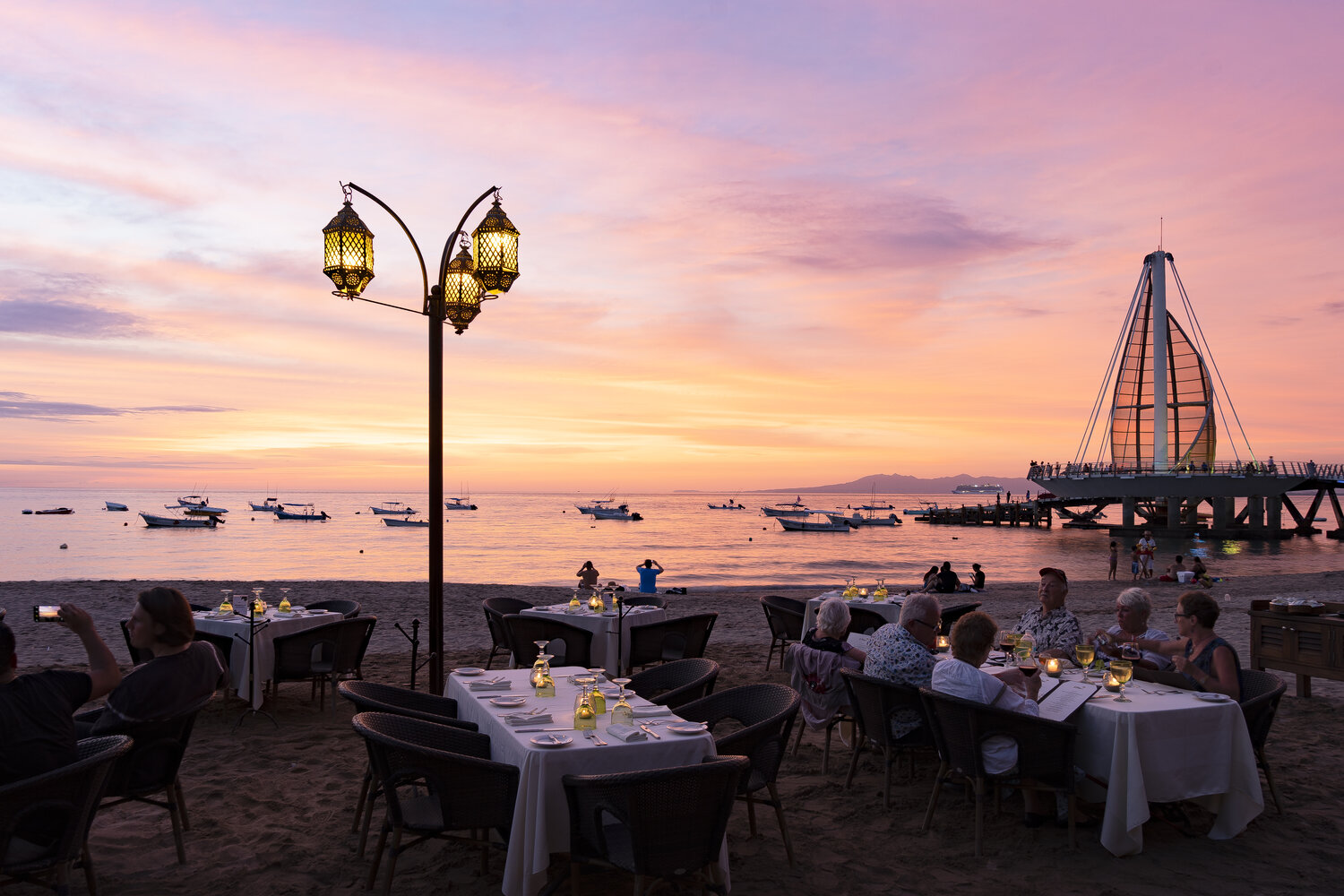 This establishment is sophisticated and upscale, but it still has a casual and friendly vibe, and it serves a remarkable cuisine that combines elements from Mexican, French, and Asian cooking styles.
The openness of the walls on three sides makes it seem as if the indoor dining is taking place in the open. A highlight of the cuisine is the coconut shrimp served with mango puree and potato coriander puree.
Whether you're in the market for a quiet booth for two or a lively communal table with the sound of the waves in the background, you've found the right place. It's about a half-hour drive south of the downtown area.
2. Fredy's Tucan
Fredy's Tucan is well-known for its lively atmosphere and extensive menu, which features both American and Mexican cuisine, in addition to serving some of the greatest breakfasts in town.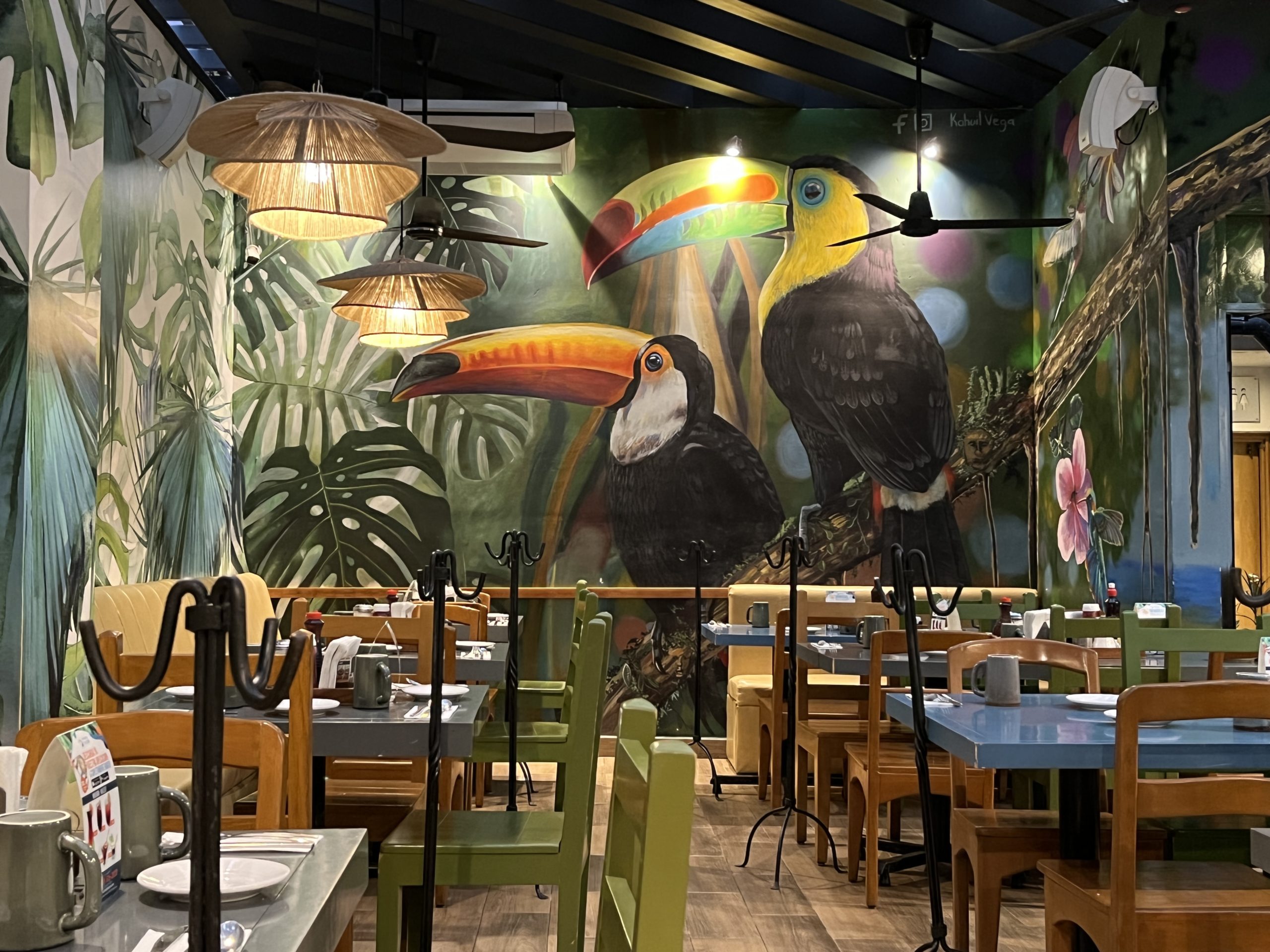 On Sunday mornings, the queues to enter this location may be exceptionally lengthy, so plan accordingly. After you are seated, though, you won't regret the wait at all since the cuisine is superb.
Chilaquiles, steak and eggs, pancakes with strawberries and cream, and other traditional Mexican fare are all on the menu. Vegans and vegetarians may enjoy the restaurant's salads, among other alternatives.
You may have both American and Mexican breakfast classics at this restaurant. It's roughly 22 minutes south of Puerto Vallarta's main centre.
3. Sonora Prime – Puerto Vallarta
If you're looking for a classic steakhouse in Puerto Vallarta, go no farther than Sonora Prime. They provide perfectly cooked steaks and a variety of specialty cuts of meat.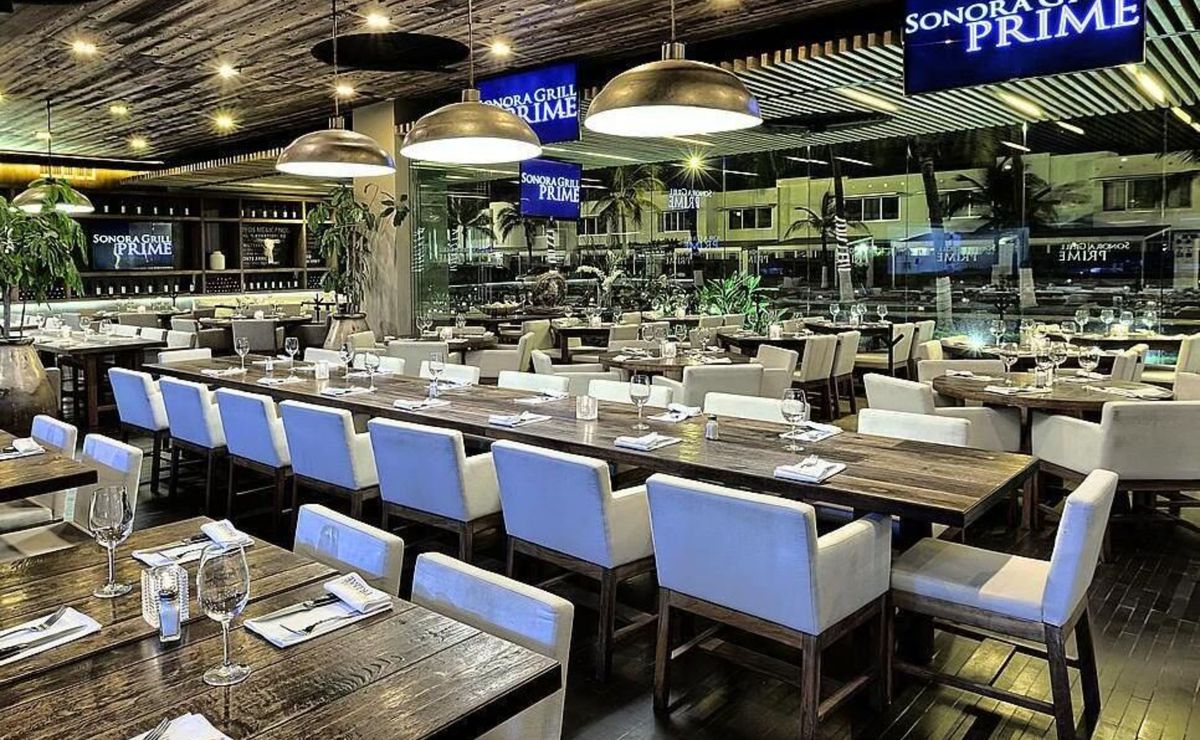 With music from the '80s blaring over the sound system, tremendous energy, and plush seats, our classic steakhouse is the kind of place where you'll want to spend all day.
While there are many options for steak on the menu, the porterhouse is the best cut and may be cooked as you choose.
The chefs here take tremendous pride in their work, and it shows in the deliciousness of each bite they produce. From Puerta Vallarta's downtown, it's just an 11-minute stroll to the restaurant.
4. Pancho's Takos
Pancho's Takos is known for their tacos al pastor, which come on fresh, hot corn tortillas with coriander and grilled pineapple.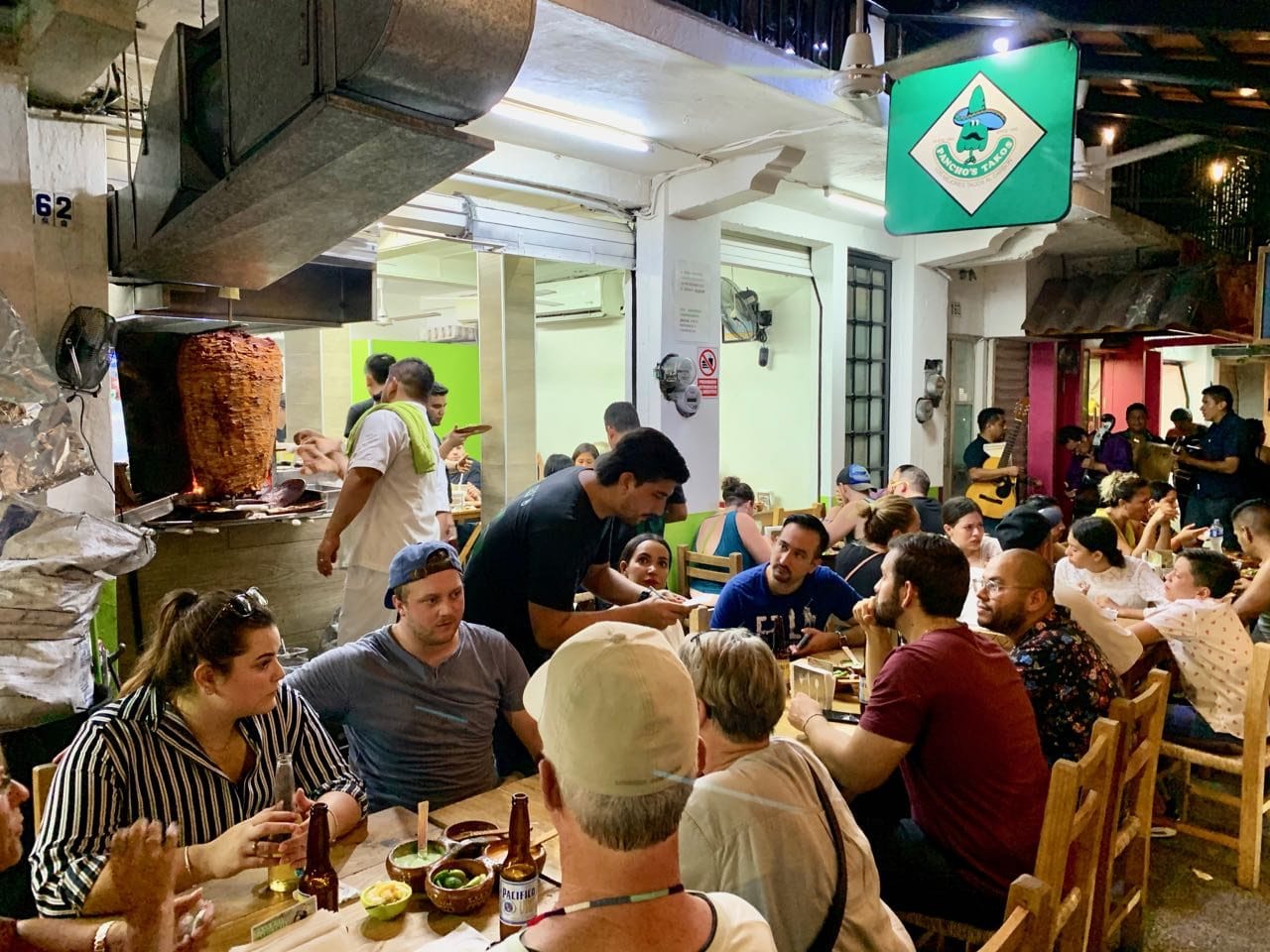 The restaurant is small, but it has a vibrant ambiance and is often crowded. The centrepiece of the menu is the charcoal-roasted pork that is chopped to order, although the quesadillas and queso fundido with chorizo or mushrooms are also quite popular.
Salsas ranging from mild to spicy to atomic-level hot and sweet are made fresh daily and are available to compliment any dish you order. It may be tough to get a seat inside, however there is street seating available if needed.
There is almost always a line out the door at this Puerto Vallarta staple, but the wait is usually manageable and the cuisine is worth it. It takes around 23 minutes to walk south from the heart of the city to get there.
5. Pepe's Taco
In case you are hungry after experiencing the local nightlife at bars, clubs, and other venues, Pepe's Taco is an indoor, fast-service restaurant operating late into the night to satisfy your needs.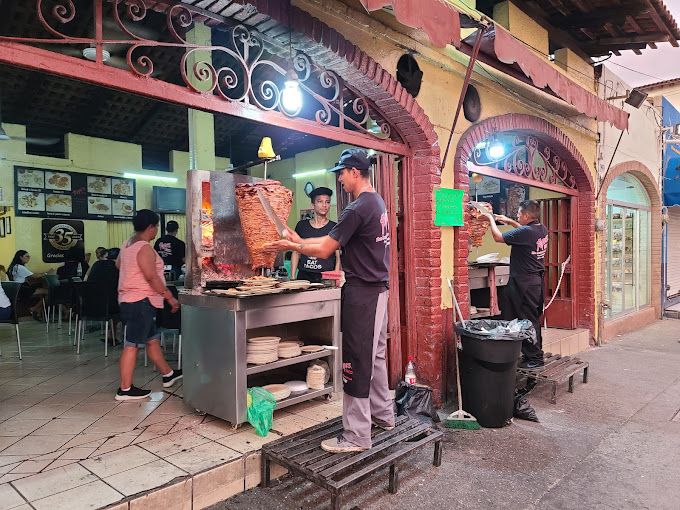 Guests may choose from a variety of tacos that include beef, vegetarian, and vegan options from this restaurant's large menu. So, the menu offers options that should please the tastes of the vast majority of diners.
They say they serve the best tacos in town, and most reviewers agree that the restaurant is perfect for a late night bite thanks to its welcoming atmosphere and menu selections.
Tacos may be ordered alone or as part of a set, and you can choose to have the meat grilled or charcoal-barbecued. It is around 23 minutes from the heart of the city and is on the northernmost point of Old Town.
6. Margarita Grill
Margarita Grill, located in the centre of the Romantic Zone, serves up delicious regional food, hosts live music and cultural events, and harkens back to the days when Puerto Vallarta was a fishing hamlet funded by the pearl trade.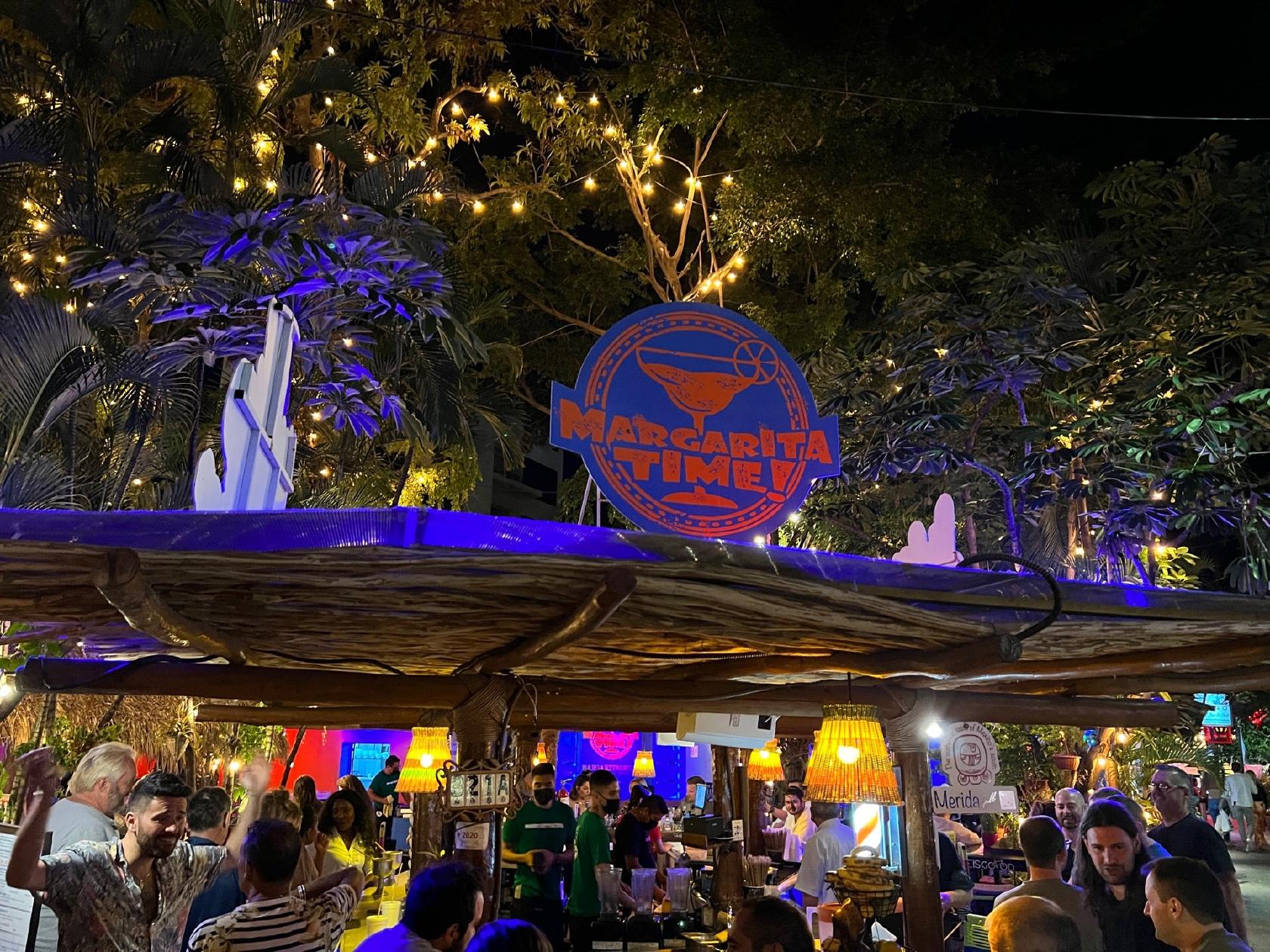 As an amuse-bouche, we provide complimentary chips and salsa, which is made to order at each table from tomatoes roasted over an open fire by the server. Aztec soup, also known as tortilla soup, has a tomato base with fresh cream.
The shrimp Caesar salad and the Margarita Grill salad, the latter of which is the restaurant's namesake, are both highly recommended. No matter what you order, you can count on excellent food quality and fair rates.
The bar also has an array of locally crafted beers and cocktails. It has a waterfront location approximately 25 minutes south of the city centre.
7. Café des Artistes
Café des Artistes serves you a fusion of Mexican and French flavours utilising only the finest, freshest ingredients from the surrounding area.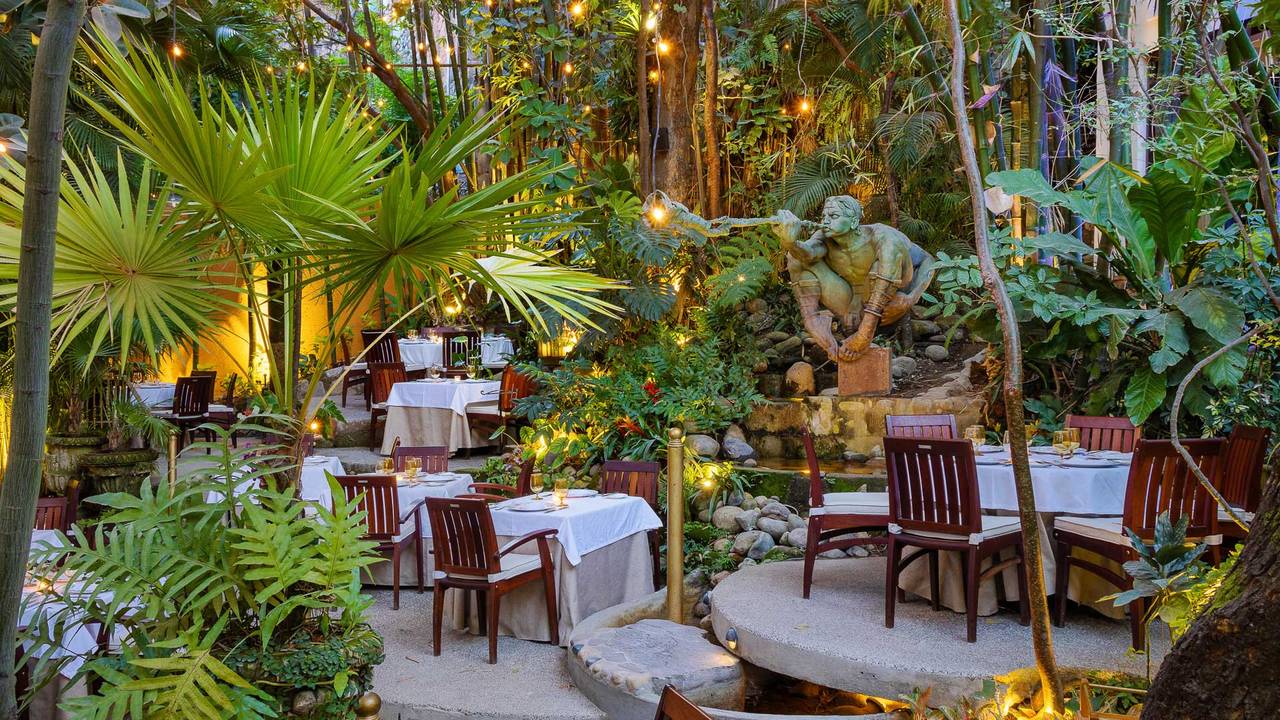 The restaurant also offers a wide selection of cocktails and other beverages produced from scratch. Twenty minutes south of the city centre, in a beautiful mansion constructed a century ago.
A wide selection of dishes, many of which change with the seasons and make use of locally sourced ingredients, may be found here. The menu has many staple items, like duck confit with mole and pork belly with hibiscus merlot sauce.
In addition, there is a carefully curated wine list that features bottles from ten different countries and ten regions around Mexico. The cocktails are made using local ingredients and liquor.
Those who like to dine outside even in the wintertime give this eatery high marks. Making a reservation is highly recommended. There is no age restriction, however only kids over 8 are allowed.
8. La Leche
At La Leche, you can expect a high-end yet relaxed dining experience with excellent food, a diverse clientele, a stunning white interior, and a menu that changes daily.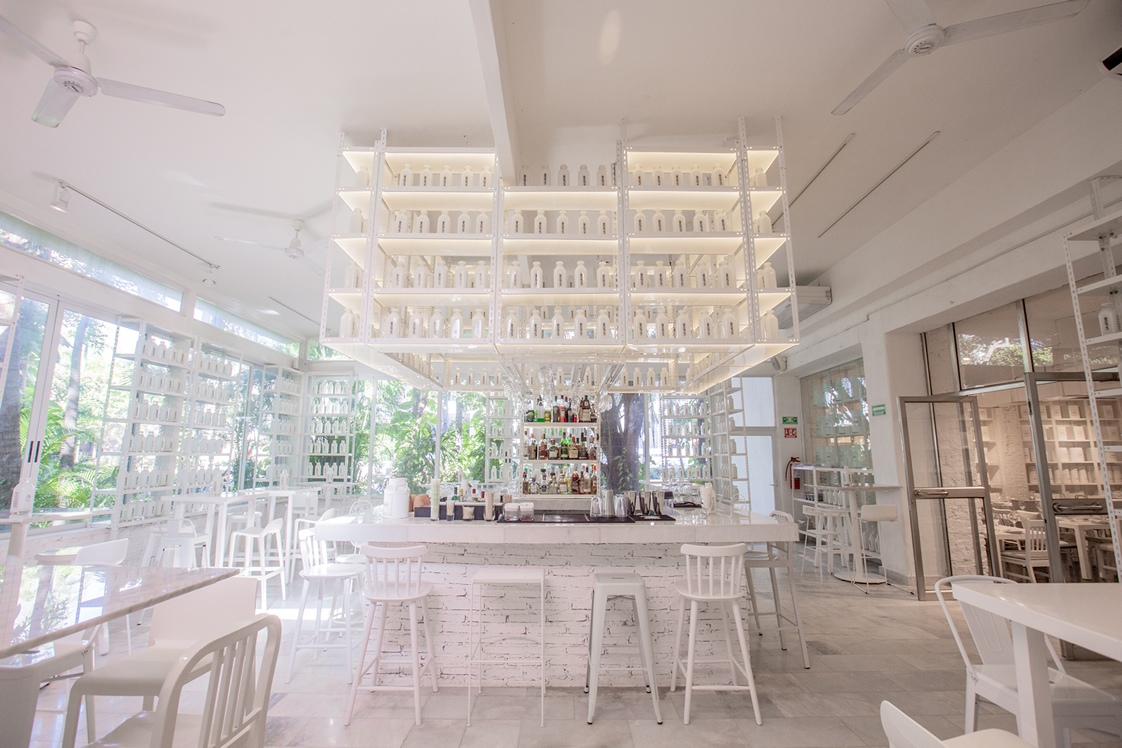 Using the seasonality and freshness of locally sourced vegetables and ingredients as their inspiration, the chefs take great pleasure in using the plate as a canvas to display works of culinary art.
This means that the menu may be entirely different each time you visit, while yet being of the highest quality.
The wait staff is very helpful and kind, and they understand both English and Spanish, and there is a wide selection of handcrafted beverages available to complement your meal.
With the high volume of customers at La Leche, it's wise to make a reservation over the phone. You may find it smack dab in the midst of Puerto Vallarta's bustling commercial district.
9. Pipis
The breads and pastries of Pipis Restaurant are made fresh daily and draw customers from all around the world. The restaurant offers a dessert that is a little bit out of the ordinary. From German Bienenstich cakes and French pastel fraisier and Italian torta alla gianduia and Japanese Gáteau Mille Crépes, this bakery contains sweets to pastries from all over the world (yes, Japan).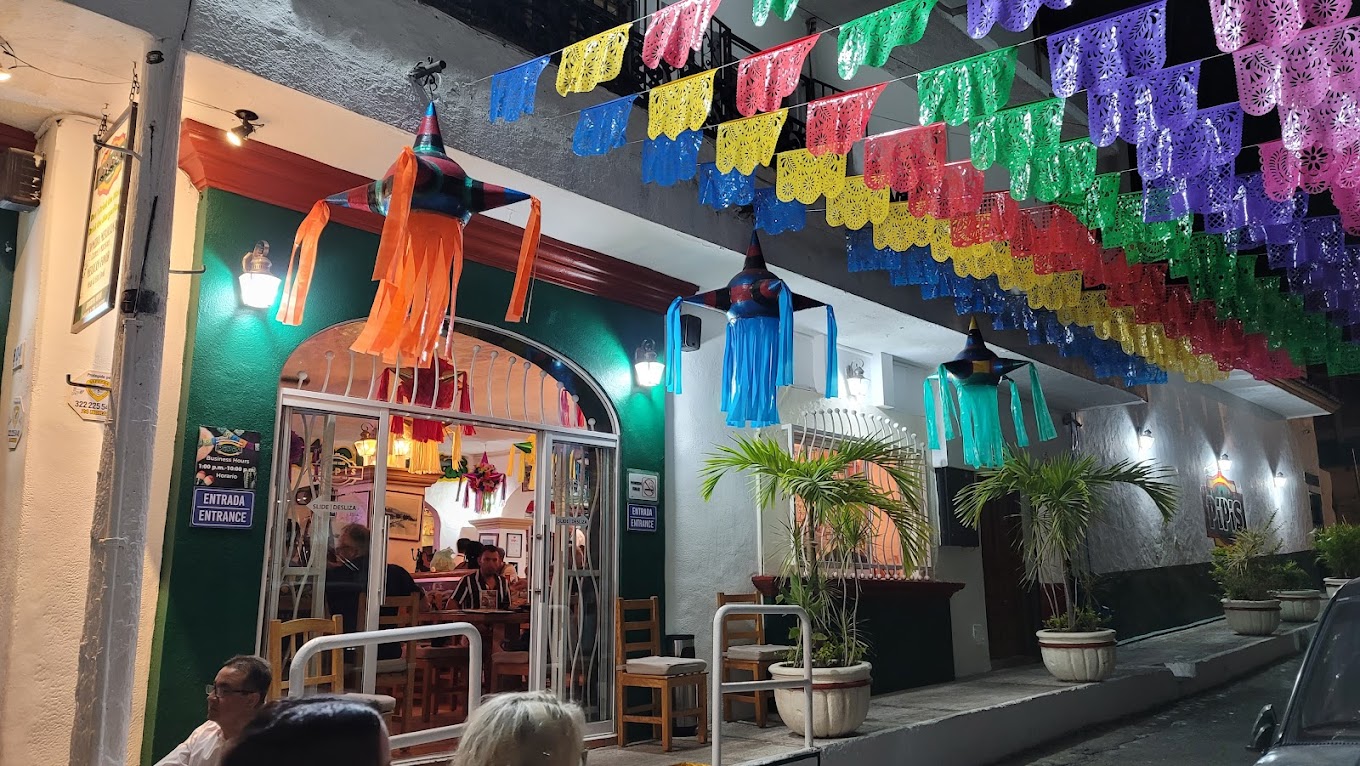 Yet, we are not limiting ourselves to a discussion of sweets. Classic Mexican tacos are also available. You may choose from a wide choice of locally sourced toppings to complement the flavorful red rice within these tacos.
You can take the kids to the Pipis restaurant since it's such a chill bistro. South of Puerto Vallarta's downtown, you may get here in about 17 minutes.
10. Mérida Grill comida yucateca
Merida Grill comida yucateca serves delicious Yucatan-style cuisine in a beautiful open atmosphere that wraps around a courtyard. The restaurant sits on the second level of a tall building, and a massive tree sprouts through the roof.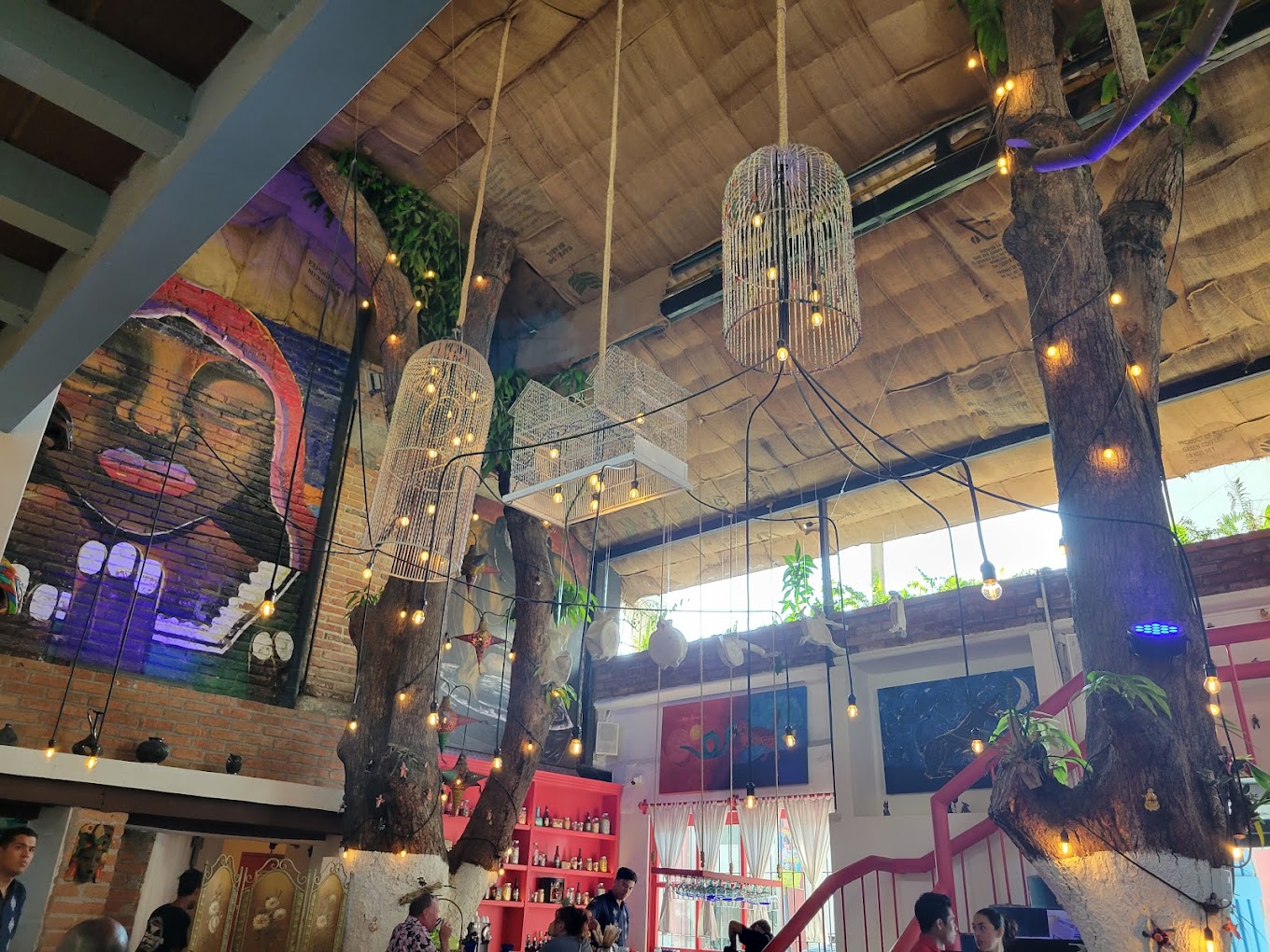 If the brick-lined cooking pit in the courtyard's centre isn't enough to whet your appetite, the sight and smell of the food cooking in it certainly will. Cochinita pibil, the restaurant's namesake dish, is pork slow-cooked in an orange sauce seasoned with onion, oregano, cumin, and achiote seeds.
In a classic location by the Bay of Banderas, this restaurant serves authentic and traditional Yucatecan cuisine. You can walk there from downtown in about 22 minutes if you stick to the beach.
Conclusion
Puerto Vallarta has some of the best restaurants in Mexico, and the city's eating culture is one of its many attractions. Foodies in the city have their pick of establishments serving anything from traditional to cutting-edge cuisine.
Each of the top 10 restaurants in Puerto Vallarta offers a one-of-a-kind dining experience that guests will never forget because of the outstanding food, stunning decor, and friendly service. Whether you're looking for authentic Mexican cuisine, seafood, or international specialties, you'll find it at one of these restaurants, and it will certainly surpass your expectations.
You should take advantage of the chance to eat at one of these well renowned Puerto Vallarta restaurants if you find yourself in the area.