We've created an exciting list of Amazing Things To Do In Cancun, Mexico
The Mexican state of Quintana Roo is home to one of the most popular tourist destinations, Cancun. This travel hotspot boasts an array of resorts, exotic beaches, attractive Mexican landmarks, and a lot of touristy things in store for you to explore.
Ideally seated on the tropical shores of the Mexican Caribbean, Cancun is one of the most visited tourist destinations of Mexico offering a myriad of experiences for its visitors. H2OH is your go-to option for private yachts, for it is designed with you in mind. We take care of every little detail while you marvel at breathtaking Caribbean coastlines on your own private yacht charter in Mexico.
The cultural attractions, stunning beaches, and breathtaking sights of Cancun will make your visit worthwhile. The abundance of experiences consist of white-sand beaches, lavish resorts, vibrant nightlife, and many more fun things to do around Cancun makes it one of the most sought-after beach vacations in Mexico.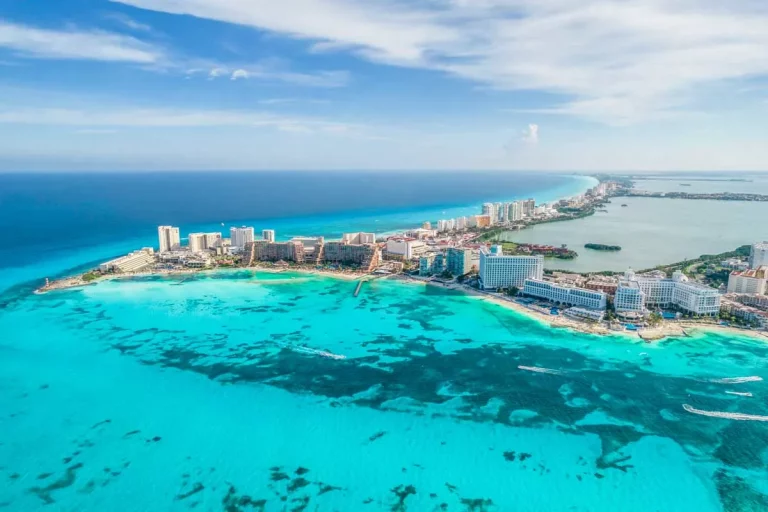 So here's your epic list of 10+ amazing things to do in and around Cancun:
Definitely not your typical nightclub with a conventional dance floor, Coco Bongo gives you an ultimate Mexico nightlife experience with high-energy entertainment and music alongside flowing drinks.
This is not like your conventional party club; it is a full-blown concert experience with acrobats, impersonators, musicians, DJs, and massive video screens. You will get to interact with conga lines, bubbles, confetti, and balloons as you indulge in the vast array of experiences that Coco Bongo provides. Plus, with all the entertainment and all-inclusive drinks, you may see how good of a deal this is for a great night out in Cancun once you factor in.
Breathtaking Views of The Tulum Ruins
The unique Tulum ruins are an easy excursion from Cancun, located near Playa del Carmen, especially the one that should not be missed at any cost. Tulum ruins are located about 60 miles away from Cancun; it is served by a number of local buses, tour companies, and collectives.
The Tulum ruins are popular for their stunningly scenic location overlooking a lovely beach and the turquoise Caribbean.
Take out some good 2-3 hours to step back in time while you relish in the city ruins, much of what is possibly standing as it was centuries ago.
Chances are you will find yourself feeling super hot there, so don't bother bringing a swimsuit and towel with you for a refreshing dip in the sea and relax on this idyllic sandy beach.
If you are looking for things to do around hard rock Cancun, do not miss out on the Isla Mujeres, it is your solace from the hustle bustle of Cancun. A 15 minute boat ride from Cancun takes to this secluded, tropical island that runs on its slow pace with plenty of restaurants and bars to explore.
Dive Your Way Into Cancun Underwater Museum
Indulge in the fascination of deep waters and have a one-of-a-kind experience at Cancun underwater museum. Yes, a museum that's housed entirely underwater. This experience should be on your list of amazing activities to do in Cancun.
Even though many tour operators offer snorkel tours of the Underwater museum, the package also includes boat rides to and from the attraction with the snorkel gear.
While snorkeling, you will discover over 500 sculptures at this famous Mexican landmark. Besides being an interesting attraction, these sculptures function as an area for coral growth and are even a shelter for marine creatures living there.
Try Different Water Sports
Undeniably, Cancun definitely is popular for resorts and partying; there are still plenty of experiences you can't miss out on while you are there, especially when you are an adventure seeker. Indulge in these thrilling experiences of speed boating, jet skiing, parasailing, and more, all of which are available along the beaches of Cancun.
Keep your sunscreens and a life jacket handy, and prepare yourself for the adrenaline rush Cancun has in store for you. Some people even list water sports as their top tourist things to do in Cancun.
Amusement parks of Cancun also leave no stone unturned for its tourists. Ventura Park is a water amusement park that makes for a great place where families can spend the entire day for its six parks in one, and each has its own unique theme.
Grand Prix gives you the experience of go-karting, Wet 'n Wild is filled with adventures of waterslides, Aaah! is all about zip-lining adventures, Underworld gives you a whole virtual reality experience, snag a kiss from one of the beautiful dolphins at Dolphinaris, and Fun World is the go-to park for the younger kids.
Know that you are in for an upbeat and jam-packed experience while in Ventura.
Visit El Rey Archaeological Site
The El Rey Archaeological Site is conveniently located in the Cancun hotel zone that is part of the Mayan Ruins in Quintana Roo. These ruins are also home to iguanas.
Spot one of many iguanas there as you appreciate the ancient ruins of this archaeological site. It is also an ideal palace for the photographs that tourists dig for.
Experience Snorkeling And Diving at Cenote
Home to several underground river systems, the Yucatan peninsula has sinkholes that were its surrounding limestone created, filled with fresh water from the rain. These natural pools are underground, full of fish, charming underwater stalagmites, and stalactites with caverns and caves. All of this makes Mayan Riviera Cenotes a surreal place to experience snorkeling and even diving.
Whether you decide to dive or do snorkeling in a Cenote, know that the experience is definitely on the top of everyone's list of amazing things to do around Cancun.
Cancun is between the Nichupte Lagoon and the Caribbean Ocean, home to nature reserves and an extensive mangrove ecosystem. Enlist this place in your list of activities to do in Cancun for the Lagoon; it is known for all outdoor water activities, be it fishing, paddleboarding, kayaking, or bird watching. However, you can explore Lagoon at its best by boat or on a jet ski.
Unwind as you tour around the natural scenery and lush jungle and witness the wildlife all around. It is also an ideal spot to watch the sunset.
Cancun and Riviera Maya will check this box for you if swimming with sea turtles is on your bucket list. The warm waters of beaches like Akumal are filled with a variety of sea turtles, all kinds from loggerheads to giant leatherbacks that will accompany you as you swim or snorkel there. You can also rent yacht in Akumal to enjoy luxurious experience.
Somewhere between May to October, female turtles lay eggs in beach nests, and from July to December, they hatch and head back to the sea. If you are an animal and wildlife lover, this is a must-do experience for you in Cancun.
This place may not be on the radar of highly experienced surfers as the waves at Cancun don't really reach that high. However, between June and November, the northern side of the Hotel Zone gives tourists a decent amount of waves.
Besides that, Cancun is the best place for those who want to learn to surf; the combination of moderate-sized waves and warm water with spectacular scenic views make it totally worth it. You will find several surf schools and board rentals around Cancun that show the ropes and get you started on the journey of surfing.
Swim Alongside Whale Sharks
Join the whale shark tour if you happen to visit between June and September. These massive beasts are the largest in the world but don't get intimidated by their size; contradictory to their appearance; they are very docile and even playful.
Since they are wildlife creatures, there are some ground rules for swimming beside them.
Experience Tequila Tasting
Ahem, make way for Tequila, for Mexicans take their Tequila seriously! You may have witnessed wine or craft beer lovers back in the USA, but here in Mexico, Tequila is what rules at the touristy bars you will visit. And good Tequila is meant to be sipped and smeared, not slammed back with lime and salt.
One of the experiences to add to the list of things to do near Cancun is definitely Tequila tasting. This experience will teach you a hell lot about the history of this potent drink and introduce you to the many styles and types.
Try a Temazcal (the-mas-kal)
Witness an ancient Mayan purification ceremony led by a shaman that is located in a tiny domed hut. This is where shaman pours water and herbs over hot rocks creating a sauna or sweat lodge while they chant or play music to induce a meditative state.
The experience is truly one of its kind; it lasts about 30-90 minutes and aims to help practitioners get rid of the toxins and cleanse the body, mind, and spirit, leaving one with a sense of healing.
This experience is a perfect way to detox after the indulgences of Cancun.
Have A Drink or Two At Senor Frogs
It may sound touristy and cliche, but Senor Frogs has always been this way since 1969, a little cheesy Mexican institution; hence you must experience it at least once if you happen to visit Cancun anyway. The food and drinks there are a bit pricey, but they are consistently good, but the ambiance and service always create an excellent festive atmosphere.
You can visit the place even with kids just before 8 pm as it gets super loud as the night falls. After 8, it is your typical nightclub with themed shenanigans like foam parties and open bar options.
Experience Ziplining Adventure
To all the adventure seekers out there, add zip-lining to the list of amazing things to do near Cancun. Get 13 different thrilling zip-lining experiences at Xplor alongside some other activities in and around the theme park's jungle, caves, and waterways. There's one more popular place for your zip-lining adventure: Selvatica, which has about 10 zip-line courses in store for you.
Mexicans dig at tacos; you can't visit Mexico and not try street tacos. Downtown Cancun is the right place to do so, especially if you have only tried tacos in an actual restaurant; know that you are in for a real lip-smacking treat. In fact, relishing tacos is one of the best touristy things to do in Cancun.
The freshly made tortillas come with fillings of all kinds, including pork, beef, chicken, and seafood. Of all the varieties, if you do wish to stick to the familiar taste, do not forget to try out the traditional and delicious Tacos al Pastor.
Cancun is a place that makes it easy to go on a self-guided tour, venturing into the streets and making their way around the buzzing shopping markets alongside.
H2OH sun cruises team ensures you get a hell of an experience, they make boat rentals in tulum easy for you as you explore some of the most celebrated snorkleing destinations this region has to offer. Adventure awaits you on board your own private yacht in the tropical center of the Riviera Maya!