Looking for the best places to eat in Tulum?
You're in luck.
You've just stumbled across the ultimate (locals) guide… from fine dining to street eats, be sure to bookmark this page in your phone or desktop, so you can return time and time again ticking off each of our handpicked top 10 one by one.
Because only THEN – can you claim to be a real experienced foodie of Tulum. 😉
… prepare yourself for some serious flavour sensations…
Ready?
The Best Places to Eat in Tulum
1. Taqueria Honorio 
Discover this small family-run taco stand whose legacy stretches far and wide, hailed by travellers worldwide for having the most delicious Yucatan pork fillings, including conchinita pibil slow-roasted pulled pork), lechón al horno (roast suckling pig), poc chuc (grilled pork with citrus marinade) tacos in Quintana Roo!
Tacqueria Honorio is open from 6.00 am until they run out of food… usually around 1.00 pm.
It's cash only here and there is limited seating.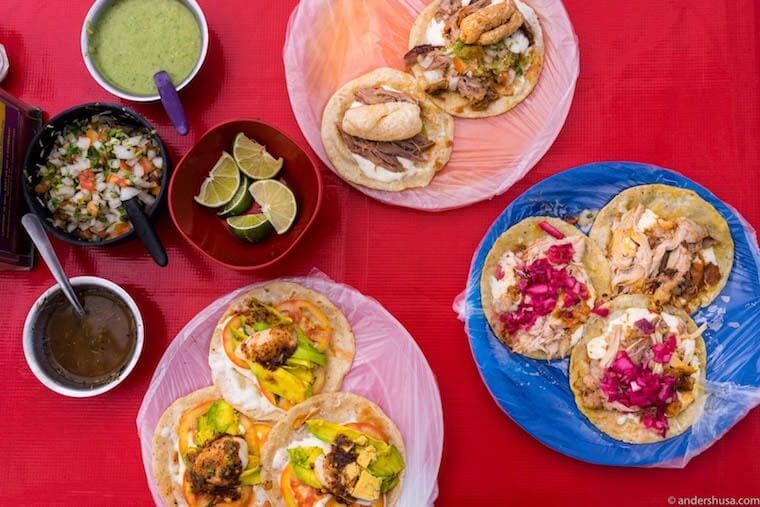 Trust me if you have to sit on the floor to eat it, it's worth it – and that's saying something.
If you're looking for the best tacos in town, look no further. 
Click for location – (In Tulum's town, away from the beach).
Price – $ (Cheap eats)
Open 6.00 am till they run out of food (usually around 1.00pm)
2. El Camello. Jr 
Another tasty option for the budget traveller is El Camello Jr…
the best thing about Tulum is that you don't have to pay mega bucks to get great flavours. 
This restaurant is loved by the locals (it's a gem)… if you like seafood then look no further.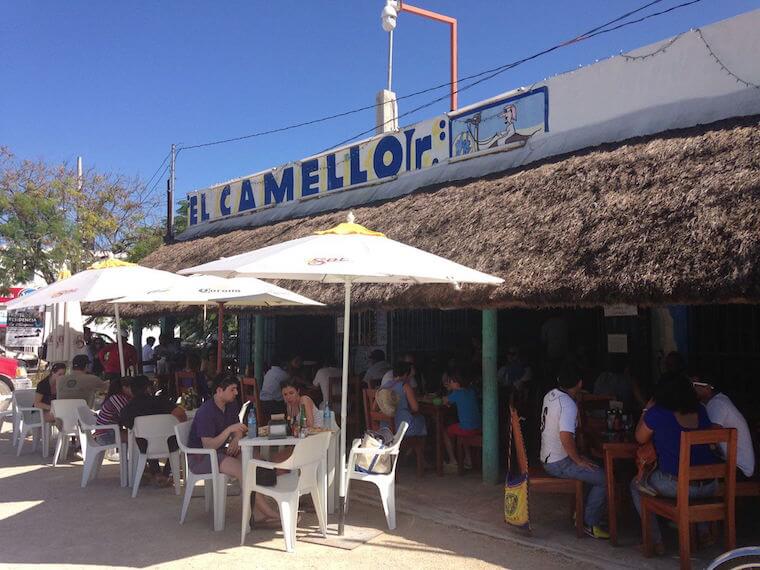 Every meal starts off with a serving of tortilla chips with a seafood dip. Then, do yourself a favor and try their ceviche and octopus tacos.
Click for location (In Tulum's town, away from the beach)
Price – $ (Cheap eat)
Open 10.30 to 10.00 pm. Closed on Wednesdays.
3. La Eufemia 
When I was looking for somewhere to eat and a cool place to hangout in Tulum it felt like the unanimous answer was La Eufemia… this rock 'n roll style beachfront taqueria offers up great fish tacos and snacks. 
It's not exactly authentic Mexican, but the flavors are bold, the margaritas are strong, and the vibe is chill. 
View this post on Instagram

Es lunes? Ni se siente! . . . . . . . . . . ???? by @mariamrdni #tulum #tulumbeach #foodporn #tacoporn #mexicanfoodporn
This isn't somewhere I'd take kids just because of the smell of weed that lingers strongly in the air but it's of fo sho somewhere I like to hang out with my friends. 
You'll get the cheapest eat on the beach but it is cash only so be sure to take your pesos. 
Click for location – (beachfront)
Price – $ (cheapest food on the beach)
Open 12 pm to 10 pm every day
4. Matcha Mama
Visiting the Caribbean means that ripe, juicy fruits with be in an abundance…
Craving something healthy and delicious? Try the best acai bowls in Tulum here.
View this post on Instagram

Don't you want me ???????? @nutlissjarquin . . . . . . . . . . . . . . . . . #healthyfood #matcha #matchamama #acai #acaibowl #plantbased #travel #mexico #vegan #smoothie #smoothiebowl #coconutbowl #yucatan #jungle #mango #travel #tulum #plantbased #bali #balilife #cocomama #coconut #quintanaroo #cancun #adaptogens
Looking for endless breakfast options and delicious acai bowls in Tulum? Head to Matcha Mama. Aside from its pretty décor, this cafe is special for all the healthy and special diet options (vegan, keto, gluten free). You'll find on the menu granolas, smoothie bowls, kombucha, raw juices, smoothies, and of course, matcha teas! There's a second location in Tulum Town.
Click for location – (Tulum Beach near La Zebra Hotel)
Price – $$
Open 8 am to 6 pm every day.
5. Posada Margherita
This is one of the first places I ate at in Tulum on my very first visit many moons ago… and what a perfect introduction it was for the incredible gastronomy the region has to offer, and the infectious laid-back lifestyle synonymous with Tulum. 
This eatery is upscale yet unfussy. 
Best of all it's beachfront! Serving up delicious Italian dishes such as handmade pasta, and traditional pizza.
View this post on Instagram

Today #posadamargherita #tulumvibes #beachvibes #tulumstyle #beachstyle #tulumlife #beachlife #tulumbeach #beach #beautifulbeach #beautifuldestinations #tulumlovers #beachlover #lovetulum #lovebeach #ocean #italianrestaurant #details #pizzanapoletana #thinkpositive #nofilter #lovepizza #pastalover #breakfastlunchanddinner ???? @chinomoro
The wine list is broad with an ever-changing selection of excellent labels.
Click for location – (beachfront)
Price – $$$ (cash only)
Open every day from 9.00 am to 7.30 pm (the lunch and dinner menu are the best in my opinion)
6. Hartwood
In keeping with Tulum's eco-friendly vibe no visit is complete without a visit to Hartwood.
This sustainable restaurant specializes in organic dishes made with fresh, local ingredients.
The chef creates dishes with whatever local produce he can find that week which is why the menu changes daily.
You'll never get bored of what is on offer here. 
View this post on Instagram

Hartwood Pulpo Asado with Roasted Potatoes and Coriander Photographs copyright © 2015 by @gentlandhyers, from our book Hartwood
The catch? It is pretty pricey but if you can afford it, it's worth it. 
As soon as you book your trip to Tulum you want to make your reservation as far in advance as possible as you can imagine this place gets booked up quickly.
Click for location – (middle beach zone)
Price – $$$$
Open Wednesday to Sundays from 6 pm to 10 pm 
7. Cetli
Looking to rekindle the romance on your next trip to paradise?
Eat out at Cetli!
This candlelit hacienda-style restaurant is just a little outside of the town of Tulum and serves up Oaxacan mole dishes.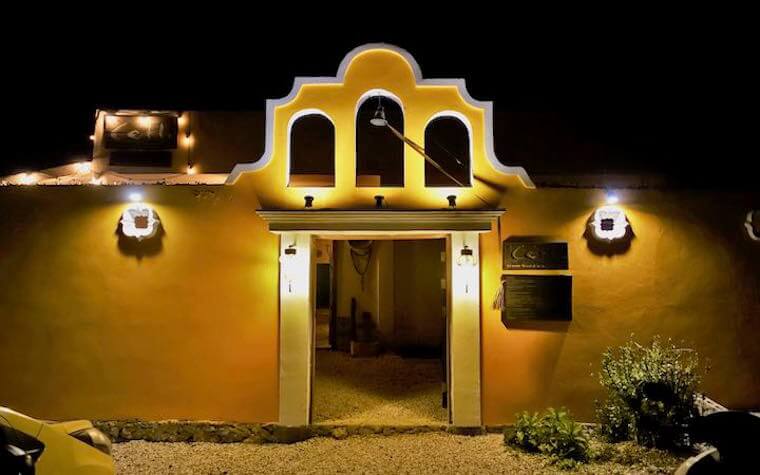 Local, fresh ingredients are ground with a metate stone in pre-Hispanic style. 
Be sure to try the Tamarind Margarita – it won't dissapoint.
Click for location – (middle beach zone)
Price – $$$ (cash only)
Open daily from 7 am to 10 pm 
8. Clan Destino
Sometimes you can't beat some home comforts. Enjoy a hamburger restaurant built around a private cenote in the jungle. 
Total vibes. 
Both meat and veggie patties are on offer and you can wash it down with a classic cocktail or cold beer. 
This place looks particularly lovely at night when it's lit my a beautiful chandelier. 
View this post on Instagram

Todos los días en Clan Destino Tulum de 2pm a 4pm 2×1 en: Margaritas con Tequila Tradicional Mojito Matusalem y Margaritas Mezcal . . . . . . . . . #tulumbeach #drinks #promo #happyhour
… 
Legend has it that jumping in restores the virginity of the swimmer…
This is a super casual atmosphere that everyone of all ages and walks of life is sure to enjoy. Plus, there's always music playing whether it's from the jukebox, karaoke, or even live bands. 
Click for location – (middle beach zone)
Price – $ (cheap eats) Cash only.
Open from noon until 5:00 in the morning.
9. Raw Love
Where all my vegan people at? This one is for you. 
Discover the best vegan, raw food restaurant on the beach, enjoy your meal with the sand between your toes, and spend the afternoon relaxing on the hammocks as you listen to the lull of the rides. 
The menu is overflowing with gluten-free superfoods…what's not to love? 
View this post on Instagram

HAPPY IN LOVE at Raw Love! • Repost @hashtag.doe ・・・ jungle babies???? #happyoriginalweddingday #loveyouforever #tulummexico @rawlovetulum • #rawlovetulum #rawlove #foreverlove #weddingday #inlove #preciousmoments #capturingmoments #tulum #tulumwedding #tulumbeach #tulumvibes #danielpopper #danielpopperart #lovealwayswins
Stand out dishes include raw pay thai, and the acai bowls! 
Find this place inside of Ahau Tulum… the entrance to this hotel is worth the visit alone. 
Click for location – (beachfront)
Price – $$
Open daily from 9 am – 6 pm
10. Arca
Let's finish with an upscale experience.
Behold Arca a high-end restaurant serving contemporary flame-cooked Maya-Mexican dishes! 
I love how often the menu changes here however you can always guarantee the freshest, local seafood, meat, and produce from neighboring Maya farms. 
View this post on Instagram

We're all about having dinner late into the night, but when the lighting is this good, 6pm will do just fine. #ARCATulum ????: @pepemolinafoto
Click for location – (middle beach zone)
Price – $$$$ (cash only)
Open Tuesday Through Sundays for dinner.