ON THE HUNT FOR THE BEST BEACH CLUBS IN TULUM?
On the hunt for the best beach clubs in Tulum?
You're in luck!
At H2oh, we're the closest private yacht charters to the area…
…When we're not cruising you down the stunning coasts of the Riviera Maya, you'll likely find us sipping on Mango Mojitos beachfront in Tulum.
Hard life, right? 😉
Because when it comes to enjoying the best of what the region has to offer it really doesn't get better than this…
Best Beach Clubs in Tulum 2021
Tulum offers a more secluded and natural vibe than other popular destinations in Quintana Roo such as Cancun and Playa del Carmen.
It's exactly everything you would expect and desire from a Caribbean vacay in my eyes.
In parts, the area is largely underdeveloped and untouched – and that's the beauty of it!
A huge tourist magnet is, of course, the ancient Tulum Ruins…the only Mayan ruins known to have existed so close to the sea.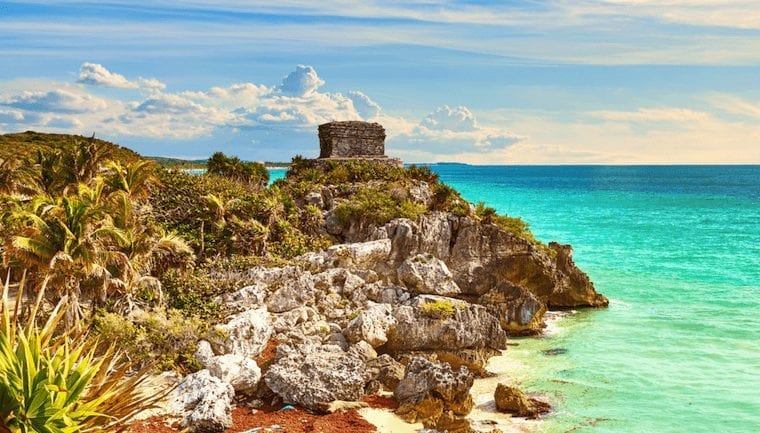 And once you're finished ticking this from your bucket list, naturally, the next step would be to head to the beach for some well-deserved rest and relaxation.
So, here it is our round-up of the top 10 beach clubs in Tulum, enjoy! 🙂
TOP TIP: Some of the best beach clubs in Tulum, mentioned in this blog do tend to fill up quickly.
Many of them actually have a cap on how many people they allow in (probably more so now, than ever before in the wake of COVID-19).
Plus, some beach clubs, like Ziggy's, for example, regularly host private events.
To avoid disappointment phone up to check, book in advance, where possible, or arrive in the morning to secure your spot.
1. Paraiso Beach Club
Kid-Friendly | $-$ | Minimum Spend = 4 USD (for basic loungers)
Introducing Paraiso Beach Club (my personal favorite)…located just 5-10 minutes from the famous Tulum Ruins.
It's prime position on Playa Paraiso (Paradise Beach) has been ranked the best beach in Mexico and the 21st in the world by Tripadvisor's Travellers Choice.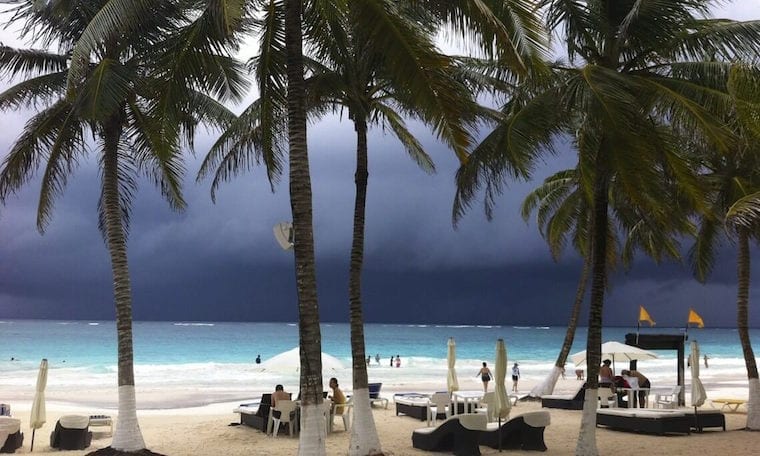 The food here, in particular, also gets rave reviews.
 The chef at this beach club in Tulum has created an innovative menu sure to tantalise the tastebuds of customers from around the world. 
Choose from a mix of Mexican and International dishes. 
Snack on small plates bursting with flavour or feast on larger, more exotic dishes such as freshly prepared lobster. 
In comparison to most of the other beach clubs in the area, the oversized beach beds are incredibly comfy,  inviting you for an irresistible lazy day in the sun with palm trees casting natural shade. 
The location, friendly and inviting atmosphere together with the supreme kitchen, it's no wonder locals like us and visitors love to spend perfect beech days and cool starlit evenings at El Paraiso Beach Club and Restaurant.
They accept credit cards (Visa, American Express & MasterCard) and all the staff are bilingual.
In light of the global pandemic, I was impressed by this particular beach club's new COVID-19 health and safety measures put in place to maximize employee and customer safety.
This included social distanced beach beds, staff wearing masks, and sanitising beach beds and tables before you sit down.
Oh – I almost forgot, while snorkeling this particular stretch of beach at Playa Paraiso recently I saw plenty of beautiful tropical fish and even a mantra ray!
It was awesome. Here's the picture I took…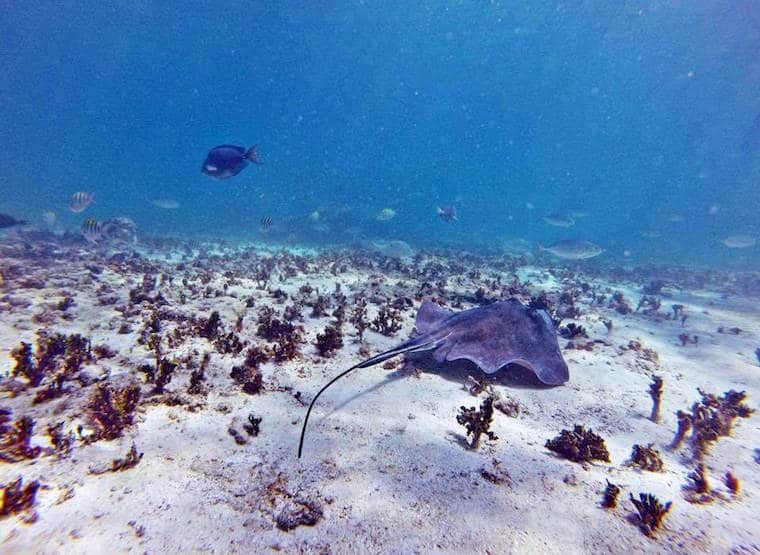 Highlights of Playa Paraiso Beach Club:
The incredible food.
Comfiest beach beds ever!
Vibrant marine life can be found just off the shore.
2. Coco Tulum
Kid-Friendly | $-$ | Minimum Spend = 25 USD
Welcome to Miami meets Tulum at Coco Tulum Beach Club! 
This super chic hangout attracts good looking people from all over the world. 
The hot electronic beats gradually increase from morning into the night…that's when the DJs truly steal the show. 
Coco Tulum offers the best of both worlds, it's a hip hangout with tasty eats during the day and a great party spot in the evening. 
The all-white decor looks quirky perched along the white sand and, for me, no beach club is complete without an ocean-facing swing…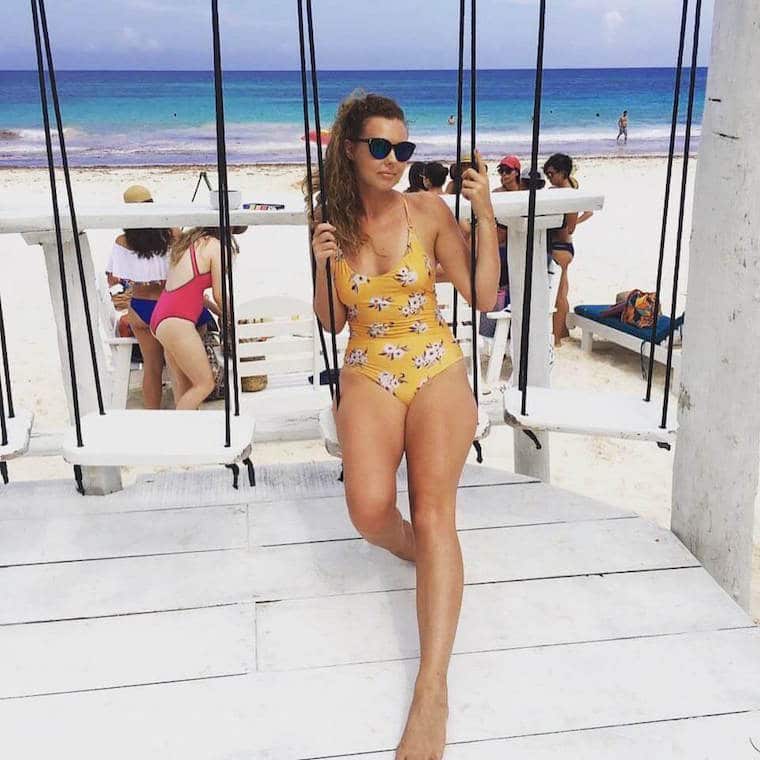 Insta-worthy enough for you? 
If you prefer to sit softer you will find hammocks, bean bags, and beach chairs – the perfect spots to kick back with one of Coco Tulum's signature cocktails. 
Highlights of Coco Tulum Beach Club:
Insta-worthy swing spot with ocean backdrop!
Great music.
Tasty fish tacos.
3. Mia Restaurant and Beach Club
Kid-Friendly | $-$ | Minimum Spend = 20 USD
Calling all foodies, if you like to mix in delicious culinary delights with your relaxing beach day experience treat yourself at Mia Restaurant & Beach Club!
They serve breakfast, lunch, and dinner and have plenty of options for vegans and veggies alike. 
If you love your wine you will also be pleased to know that Mia has over 200 labels from around the world in its wine cellar for you to enjoy. 
Strategically positioned in the best area of the hotel zone, you can expect great service and even better architecture. 
For me this is one of the top beach clubs for food and service. 
The best part?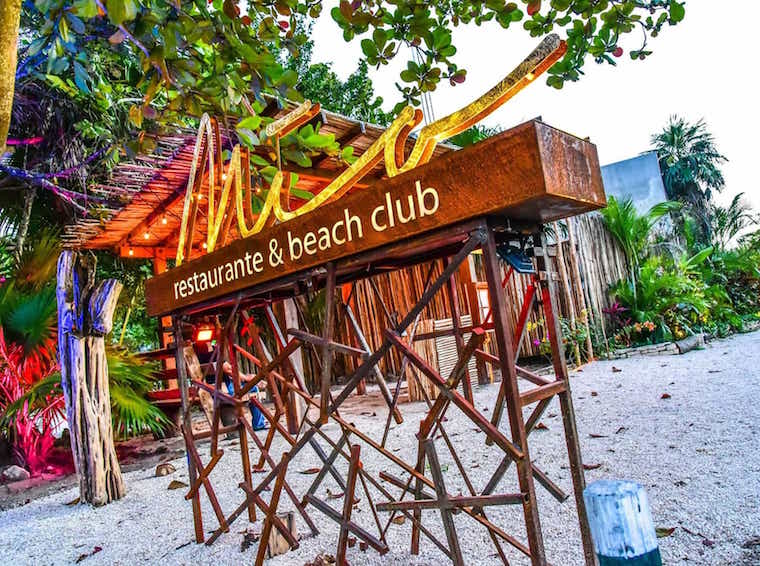 It's reasonably priced however there is a minimum spend of 20 USD per person (a little pricey by local standards). 
One bonus is that beds are included once you start a bar tab.
So, get ready to kick off your flip flops and snuggle in. Win! 
If you can, ask for the server Hugo – he is attentive, sweet, professional, and enjoyable to be around. 
Highlights of Mia Beach Club:
The extensive wine list.
World-class service.
Stunning architecture.
4. La Eufemia
Kid-Friendly | $ |No Minimum Spend
Introducing one of the best, if not THEE best taco spots in the area with the exclusive perk of being beachfront. Win! 
If you're traveling with children you will be pleased to know that guests of all ages will be welcomed at La Eufemia – pets too!  
Coming to this place and not trying the Poc-Chuc or Pastor tacos would simply be a crime…
If you're a veggie, of course in Tulum there are lots of mouthwatering options for you too such as the mushroom and garlic tacos. 
There is a shaded eating area up top if you want to fill up on the yummy-ness while cooling off from the hot Caribbean sun.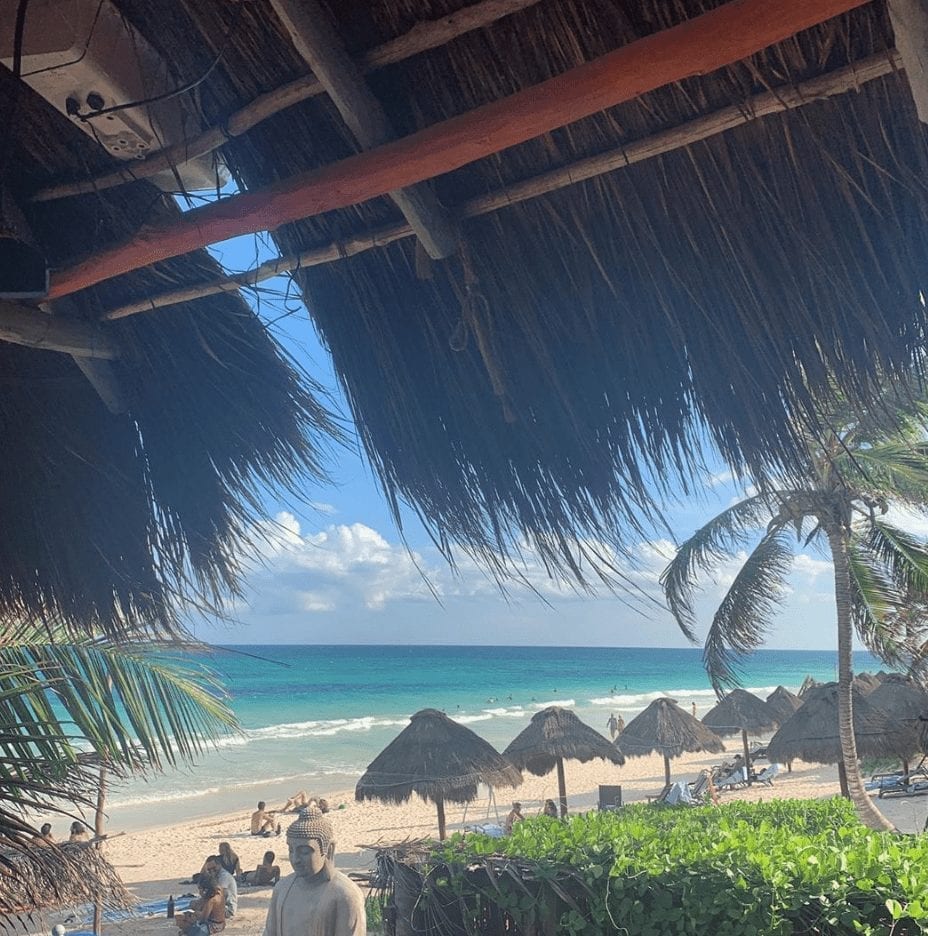 On the beach, you will find plenty of beach beds, lounge chairs, and umbrellas. 
Just be sure to bring a towel in case you're visiting during peak season or on a weekend as if you don't get there early you may struggle to find a space, and with a towel, you can always set up shop upon the powdery white sands. 
There's a good chance you will also be greeted by the soft sounds of live music in keeping with the cool tone and lifestyle of Tulum. 
Paradise! 
This place comes highly recommended from me personally.
I should note that this particular beach club in Tulum is located on the far side…close to the hotel zone of the area.
So, if you're coming from Playa it may cost you a few extra pennies if arriving in a taxi, but trust me, it's so worth it!
Highlights of La Eufemia Beach Club:
Quirky Escobar themed furniture
The delicious tacos (Al Pastor)
Laidback vibe and music
5. Ziggy Beach Club
Kid-Friendly | $-$ | Minimum Spend = 50 USD Per Person
Complete with sunbeds, rum-spiked coconuts and separate seating areas for hotel guests and visitors, this a popular place for soaking up some ray in Tulum.
If you are looking to host a private birthday dinner with your boyfriend or a beautiful wedding reception, Ziggy's is definitely one to watch!
It boasts a premium location and has everything you'd expect a great beach club in Tulum to have.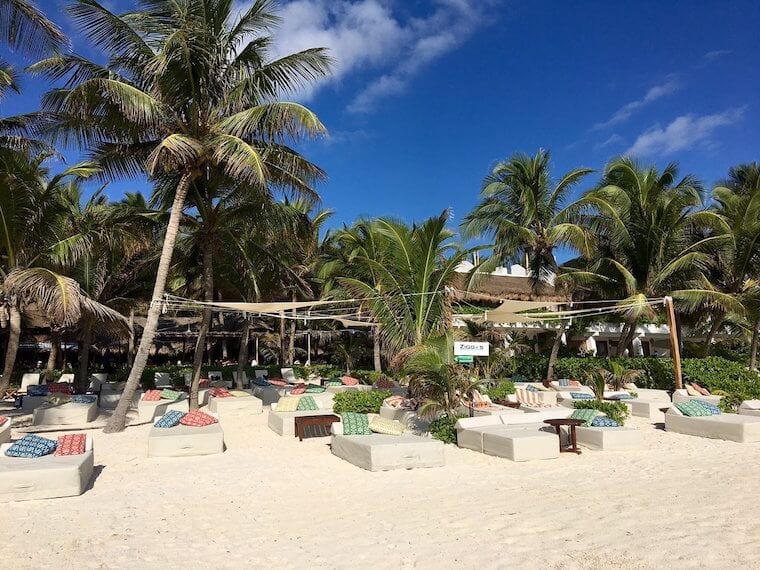 Better yet, they host daily special events for example:
Monday – Spanish flamenco and guitar.
Tuesday – Tequila tastings of course!
Wednesday – Offering up a grilled Caribbean seafood menu.
Thursday – Mexican wine tasting.
Friday – Mexican folk music.
Saturday – Caribbean Latin rhythms.
Sunday – Mezcal tasting.
Ziggy's is the perfect spot, and it's open from 7 am to sunset, 7 days a week!
Learn more on Ziggy's website and go and see what all the fuss is about for yourself.
New COVID-19 measures at this beach club includes staff face masks, hand sanitiser stations, regular temperature checks for staff, socially distanced tables, regular disinfecting. 
Highlights of Ziggy's Beach Club:
Daily events.
Private event space.
Early open time and breakfast menu.
6. The Papaya Playa Beach Club
Kid-Friendly | $-$ | Minimum Spend = 50 USD Per Person
During the local and global lockdown, The Papaya Playa Beach Club used the time incredibly wisely! 
In their own words they were preparing for the "new earth" and have emerged "reborn". 
Back with a bang, they have a completely new space, menu, cocktail, and wine list – and we are LIVING for it here at H2oh Sun Cruises. 
Located on the northern stretch this beach club in Tulum offers up unobstructed views of the magnificent shore as you enjoy the sun's warm caress on your skin.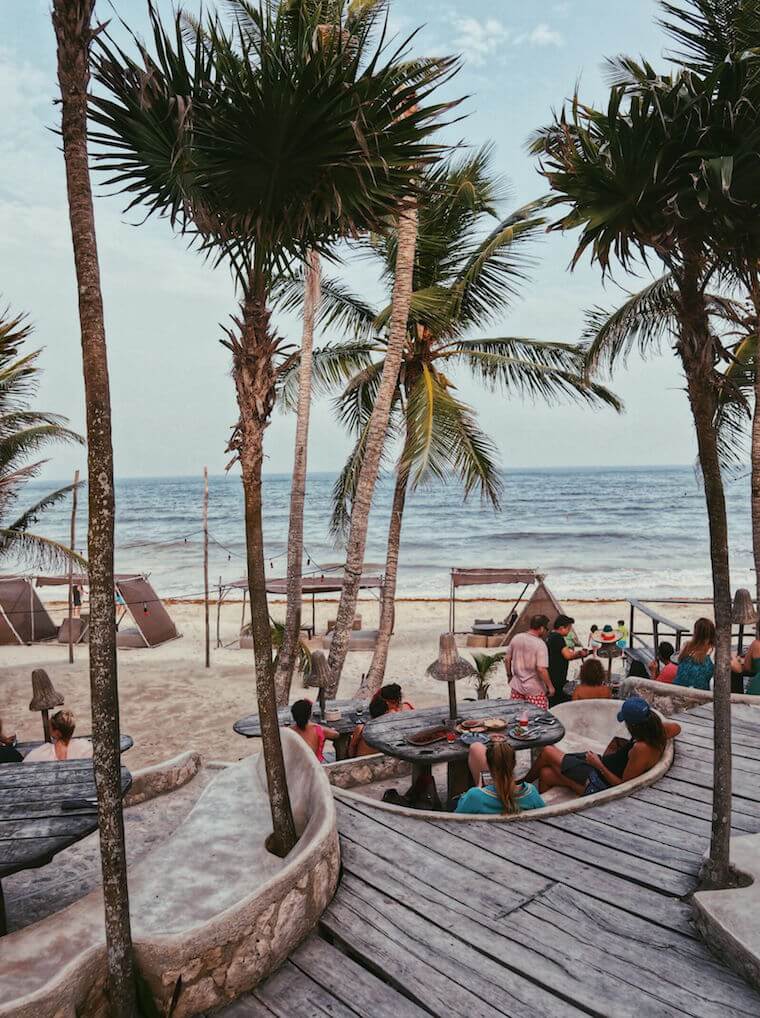 Papaya Playa's new space's interior and exterior design is the perfect blend of nature and the sea. 
The music here is sure to hit the spot – curated by guest artists and resident DJs it captures the essence of the Tulum lifestyle perfectly. 
Impressively,  the kitchen is now full of fresh, sustainable, and rich flavors that work in harmony with the mixology menu. 
COVID-19 definitely pushed them to raise the bar, and Papaya Playa have done exactly that. 
If you check it out be sure to let us know about your experience down in the comments section below we would love to hear from you. 🙂
Highlights of Papaya Playa Beach Club:
Renvisioned space and food/drink menu.
Location.
Large shaded eating and drinking area.
7. Ahau Tulum
Kid-Friendly | $-$ | Minimum Spend = 20 USD
Whoever designed the entrance to Ahau Tulum, hats off to you!
It's for this reason alone that many tourists flock to Ahau Tulum, I mean, who wouldn't want to get a picture in front of this architectural/artistic masterpiece?
If you want a sun chair to relax on at this beach club there is a minimum spend to secure your spot, and the bummer is, that the restaurant is not included in this spend.
However, all in all, I'd say it's worth it if you want excellent, food, and ambiance!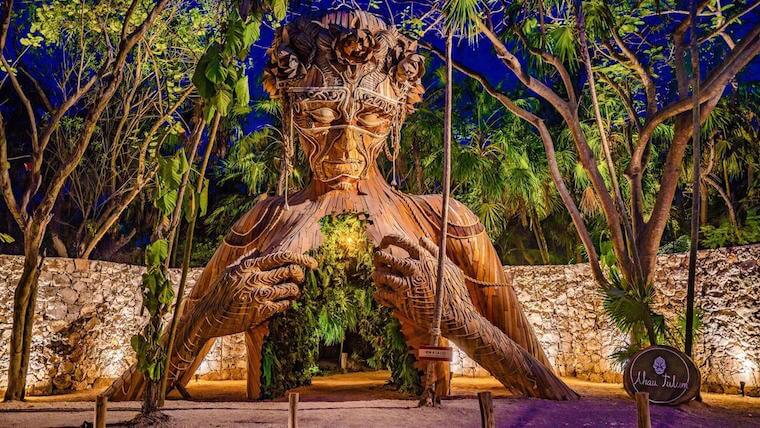 The view of the ocean is breathtaking!
Highlights of Ahau Tulum Beach Club:
The entrance.
The tempura tacos.
Pet-friendly.
8. Mina
Kid-Friendly | $-$ | Minimum Spend = 50 USD
Do you like steak? Then you HAVE to try Mina!
This beach club in Tulum is part of the Maria Del Mar hotel (Casa Banana group), and it's open every day from 7.30 – 10.30 pm. 
The main pro about this beach club in Tulum is, without a doubt, the view!
But it also boasts a mouth-watering Argentinian inspired menu, so y'know, tough call.
Drinks also get a solid 10/10 from me as they are strong, flavourful, and fresh!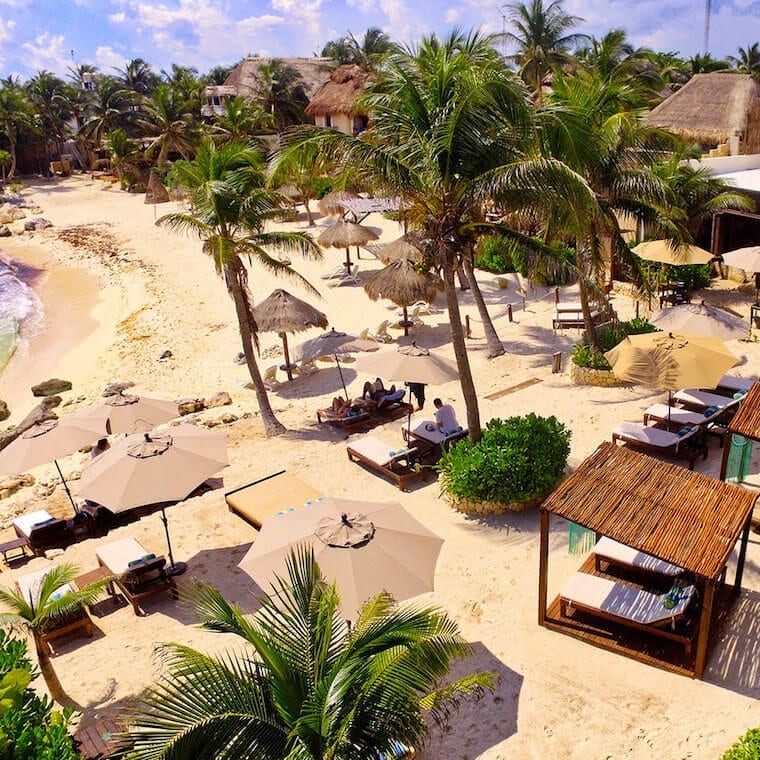 If you have kids over the ages of 12 they are certainly welcome here at Mina too.
Let them enjoy playing on the beach while you sip on your favorite cocktail and savor the flavors of the delicious food on offer.
Highlights of Mina Beach Club:
Cocktail menu.
The servers were very attentive.
Ocean and beach view.
9. Hemingway's
Kid-Friendly | $-$ | Minimum Spend = 20 USD
Literary mavens will never want to leave! 
Known as one of Tulum's most romantic eco-resorts, Hemingway's is an Italian operated beach club so you can relax knowing you're being hosted by descendants of the Roman Gods! 😉
Choose from one of the many comfy hanging beds or hammocks and sink into the true rhythm of the tropics.
If you're looking for somewhere to have a good meal and a drink in a quiet and more relaxing setting, this is it.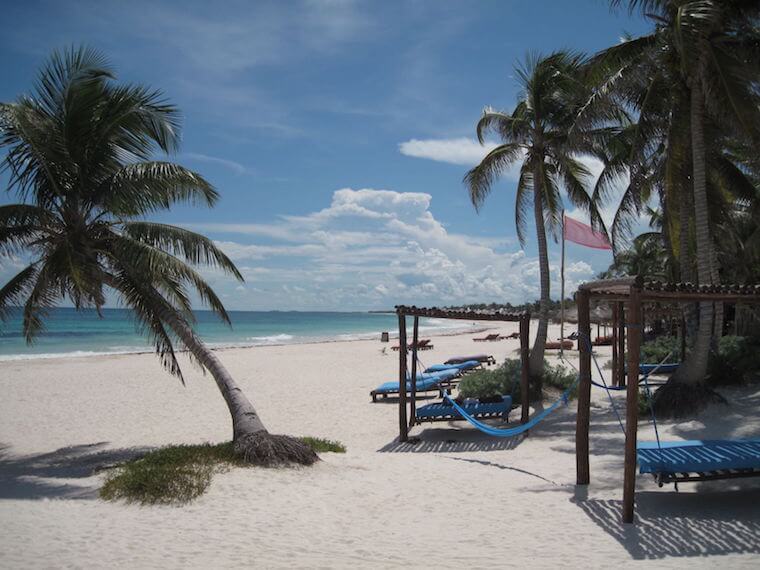 The restaurant has a great wrap around deck on the beach, perfect for happy hour. 
Seafood pasta is unquestionably a must and if you swing by early enough be sure to have their cafe de olla (traditional Mexican coffee sweetened with piloncillo). 
This place is located close to the Sian Ka'an Biosphere Reserve, and, of course, all of the structures of the property have clearly been designed with a respect for nature, decorated in colors found rooted deep in Mexican culture.
Children over 12 are welcome at Hemingway's.
Highlights of Hemingway's Beach Club:
Eco-friendly and cultural vibe.
Endless beach view.
Pasta dishes.
10. Hip Hotel Beach Club
Kid-Friendly | $-$ | Minimum Spend = 25 USD Per Person
Picture this…
Kicking back on one of the soft beds at Hip Hotel Tulum while the gentle ocean breeze blows through the sheer white drapes and carefully crafted dream catchers as you sip your juicy Mango Mojitos.
Yes, those Mango Mojitos I mentioned earlier?
Well, this is the spot to get them from. They are amazing!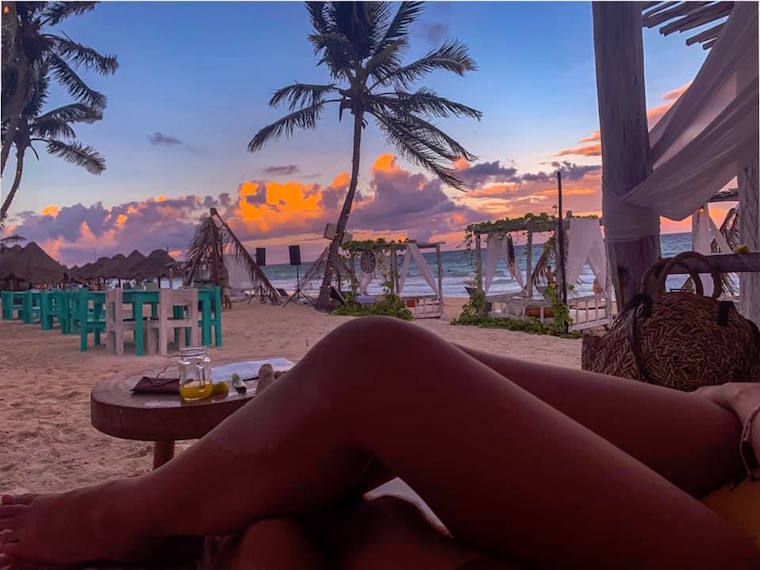 I love this stretch of beach found directly in front of Hip Hotel Tulum, it's the perfect spot to cool off in the sea, as the sand is soft and powdery between your toes.
There's even more shaded areas surrounding the bar where you can rock back and forth on the rope swings as you order your next round of drinks.
The servers at this beach club in Tulum will be ready to make you feel at home.
What you heard about Tulum is materialised in Hip Hotel Beach Club…
Highlights of Hip Hotel Tulum Beach Club:
Mango Mojitos.
Comfortable beach beds.
Cool DJs daily and full moon parties.
Seas the Day!
That's a wrap! I hope you enjoyed reading and found this blog useful.
If you have any of your own recommendations to add let us know in the comments section, we're open to adding all of your wonderful suggestions… but this should be enough to get you started for now. 🙂
The Tulum lifestyle is relaxed, and you will often find that the best days are the days without plans!
Roll with it! You're on Tulum time now.
Why not just take a stroll down the beach and tick off the beach clubs one by one?
I've found this to be the best way to make cool discoveries.
Have fun!
If you have any questions whatsoever be sure to leave them down below, I'd be happy to answer them for you.
Want to Cruise the Coastline for Less?
At H2oh Sun Cruises we are the largest and most experienced private yacht charters in the area.
We've just been rated #1 on TripAdvisor for the 7th year in a row.
If you feel like celebrating we offer yacht cruises for all budgets and any occasions.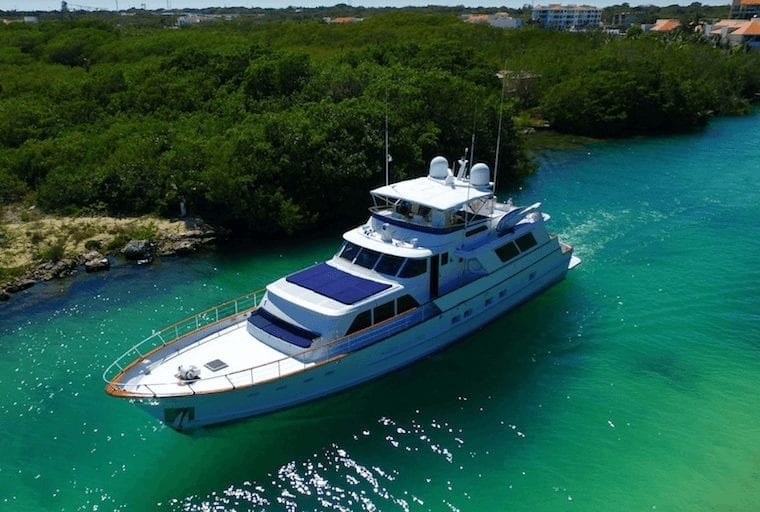 Check out our main website here…and enjoy all-inclusive fun at sea in the Riviera Maya!
All aboard…are you in?
Additional Resources You May Find Useful
H2oh's NEW Health & Safety Restriction
READ MORE
MORE POSTS
Skip the street tacos and check out our list of the best restaurants in Tulum
In this delicious selection, we've included some well-known restaurants here in Tulum and a few secret ones too!
It's all about eco-friendly experiences! Verdánt blends sustainability with flavor as a stunning restaurant tucked away in Tulum. They have transformed their backyard area into a beautiful herb and vegetable garden. In every sense, they are farm to table! Your dinner here will without a doubt be one of the best on your trip. Founded by the talented Chef Maya Scales who helped to open Arca, along with Chef Benjamin Coe.
Hartwood is in a league of its own in terms of crafting gastronomic delights. This is because their dishes change daily as they utilize seasonal ingredients and produce sourced around the Yucatán. How they create dishes in alignment with what sea and land provide is an artform!
Atila is a new Yucatán Brasserie on the beach road of Tulum. They've crafted an amazing menu that is married with their selections of natural wines and is affectionally dubbed as the little sister of Arca. Noma Chef Jose Luis Hinostroza both here and at Arca craft you some of the most elevated dishes found in Tulum.
This charming "secret garden" restaurant offers a laid-back ambiance. Their delicious menu of classic Mexican cuisine celebrates the gastronomic excellence of the Yucatán. Cenzóntle is located in the slightly posh Hotel Zone of Tulum but keeps it casual and family-friendly.
Another hub that local Tulumer's and tourists adore! Arca's venue and food delight all of the senses. Noma Chef Jose Luis Hinostroza is a partner and Head Chef here, too. Sorry vegan or vegetarian lovers, Arca's bone marrow is perhaps one of their best dishes. Make sure to try their house cocktail, the Har Mar!
La Pizzine
This space is a restaurant, cafe, and co-working space rolled into one. La Pizzine is for the "digital nomad" who wants to post up from morning till night. Located in a cute neighborhood of Tulum, this multifaceted venue is not to be missed. If you can't tell by their name, they do make fabulous pizzas!
Cetlí epitomizes the elements of Mexico, and Mexican cuisine. Their menu offers a selection of some well-known Mexican dishes, and as well ancient recipes only a true connoisseur of Mexico knows of. Cetlí brings to life what we love the most about food: flavour and presentation.
While "hotel food" is usually sub-par, the restaurant Moro in Habitas will leave your tastebuds in complete surprise. The Habitas hotel itself represents the natural beauty of Tulum, and Moro's amazing food does too. Moro is an open-air restaurant. The music, food, and atmosphere of Habitas will leave you wanting to come back again.
Italian food? When I'm in Mexico? Absolutely. Il Bacaró is a lovely Italian restaurant and Pizzaria in the heart of Tulum. And we know what you're thinking- their wine is fantastic! From authentic Nocci to everyone's favorite- lasagna- Il Bacaró fills you up with the best food just like your Nona's homecooked meal.
Of course, we have to include at least one spot for the best ceviche in Tulum! Las Hijas de la Tostada sources only the best seafood and meat on the market, and one can taste the love they put into creating their delicious meals.
We hope you have an amazing gastronomic experience from these stellar restaurants we've suggested. We can cater beautiful meals for your yacht cruise, too! Email hello@h2ohcruises.com to find out more.